Inexpensive, disposable paper-based sensors under development at the University of Washington can detect a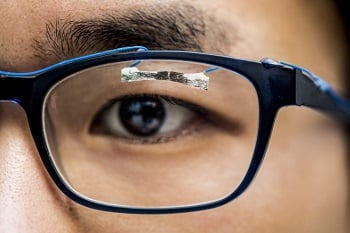 University of Washington researcher demonstrates how wearable sensors can track eye movement. Source: Dennis R. Wise/University of Washingtonheartbeat, finger force, eyeball movement and other forms of human motion. The tissue paper-like devices are nanostructured composites built with microporous cellulose fibers and carbon nanotubes.
When torn or subjected to pressure, the flexible sensors signal movement via piezoresistive and piezocapacitive mechanisms. The researchers doused conventional paper towel-derived devices with carbon nanotube-laced water to impart electrical conductivity. Each piece of paper has both horizontal and vertical fibers, so when the paper is torn, the direction of the tear informs the sensor of what's happened.
The developers suggest the devices could be used to monitor a person's gait or to track eye movement — by attachment to a subject's reading glasses — to gauge brain function or a game player's actions. The sensor could track how a special-needs child walks in a home test, sparing the child the need for hospital visits. The sensors could also be used in occupational therapy for seniors.