Determining If Drones Offer 'Green' Delivery Option
Marie Donlon | February 14, 2018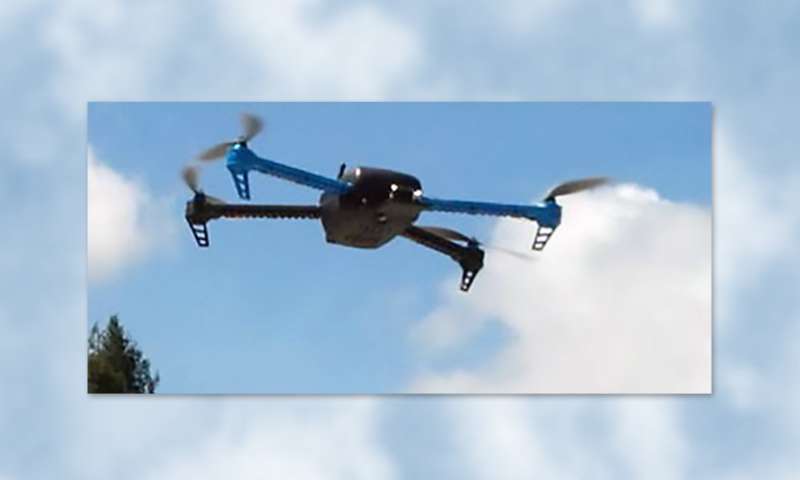 Lawrence Livermore researchers flew test campaigns with two commercial drones and developed an estimate of the energy needed to deliver a package in various scenarios. They also considered how battery technology and drone design will improve over time. Source: Lawrence Livermore National LaboratoryAs commercial package delivery via drone becomes more and more common with companies such as Amazon, Google and UPS, researchers from Lawrence Livermore National Laboratory (LLNL), Carnegie Mellon University, SRI International and the University of Colorado at Boulder set out to discover whether or not drone delivery reduced greenhouse gas emissions and energy use in the transportation industry.
Detailing their findings in the journal Nature Communications, researchers tested two commercial drones, estimating their energy needs to deliver packages in a number of different scenarios. Also considering factors such as battery technology and future drone design improvements, the team used life cycle assessment to compare drone delivery with traditional automotive delivery.
Considering that the estimated range for multi-copter drones is about four kilometers, researchers determined that a new network of warehouses would be necessary to support a drone delivery system — which means a new network of warehouses that would require additional energy to operate. Consequently, while drones use less energy per package-mile than traditional delivery trucks, the energy required to run the extra warehouses coupled with the longer distances traveled by drones per package significantly increase the life-cycle impacts.
As such, the researchers determined that the results were mixed and that the best choice for the environment would depend on factors such as drone size, package weight and power plant types on the local electricity grid.
"A light package — say, a pair of sunglasses — flown by a small drone over a few miles, saves a lot of energy and greenhouse gas emissions compared to a delivery truck. But a larger package — say, a computer monitor — flown by a drone large enough to carry it, probably does worse than a delivery truck," said LLNL Scientist Joshua Stolaroff, lead author of the paper.
Responding to whether or not it was possible to make larger drones more efficient than trucks and vans, Stolaroff answered: "Yes. Charging drones only with renewable and low-carbon electricity would be the easiest way. They also might find creative ways to deliver goods from existing retail stores rather than building additional warehouses. The bottom line is to pay attention to life-cycle impacts when designing both the drone and logistics network."
The research is published in the journal Nature Communications.