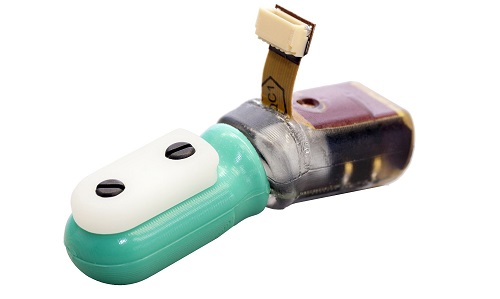 Multi-material sensors such as this tactical sensor are used on the ISS and could be needed as an on-demand part on deep space missions. Source: NASAMonterey,California – Despite budgetary cuts or restrictions on where it needs to focus due to the Trump Administration's recent guidelines, NASA has big plans for its in-space manufacturing (ISM) program that is currently operating on board the International Space Station.
At the Flexible Electronics Conference (FLEX2018) conference, NASA's chief scientist for exploration technology, Meyya Meyyappan, says the space agency is looking at the trial runs of its multi-material fabrication labs on the ISS as the beginning of what would be a larger use of these fab labs to be installed in future endeavors in the next decades including placing the printers on the Moon and eventually Mars.
"The old fashioned logistics of actually getting things back and forth is pretty much gone and moving forward we are looking to in-space manufacturing as the future," Meyyappan says.
After developing its ISM program over the last two years, the multi-material NASA FabLab will be the test bed for what can be accomplished by additive manufacturing and printing electronics in space. Over the next seven years, NASA will test for stronger types of extrusion materials for multiple uses, including metals and various plastics, embedded electronics, autonomous inspection and part removal. The ISS will also serve as a testing ground for in-space recycler technology demonstrations.
From 2025 to 2035, having tested the materials and ideas on the ISS, the FabLab will be used for Cislunar and Lagrange initial robotic and remote missions, possible provision feedstock and will evolve to utilizing in-situ materials such as natural resources and synthetic biology. The FabLab will allow for living off the land by producing, repairing and recycling parts and structures on demand, Meyyappan says.
For Cislunar, the FabLab will be used as a transport platform for in-situ resource utilization, additive construction and repair of large structures. Depending on the government situation, which is currently focused on Moon-based missions rather than Mars, Meyyappan says a FabLab could even be placed on Mars for feedstock and on-demand manufacturing of structures, electronics and parts utilizing both in-situ and ex-situ resources.
Obviously, this is far into the future. To date, NASA has printed several functional parts on the ISS using the Made in Space Additive Manufacturing Facility (AMF), including tow hitch spheres for flying satellites, a REM shield enclosure for radiation monitoring, an antenna feed horn and an OGS adapter for consistent and accurate reading of airflow through a port as well as various sensors.
A couple of months ago, NASA called for ideas for prototypes that could be printed on the ISS' FabLab as part of the Next Space Technologies for Exploration Partnerships (NextSTEP) program. The companies included Interlog Corp., Techshot Inc. and Tethers Unlimited Inc.
The companies will have 18 months to deliver a prototype after which NASA will select partners to further mature the technologies.