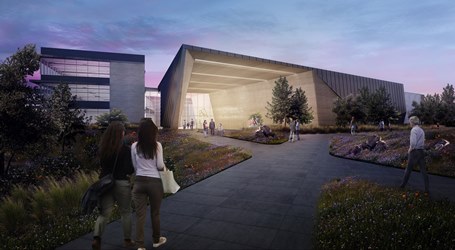 The new Southern California Consolidation project for the California Air Resources Board will be in Riverside. Source: ZGF Architects LLP
The design-build team of Hensel Phelps, ZGF Architects LLP and Affiliated Engineers, Inc. has been awarded a contract for a $368 million, 380,000-square-foot vehicle emissions testing and research facility. The California Air Resources Board (CARB) campus will be among the largest zero-net-energy facilities of its type in the world, generating more energy than it uses.
The Southern California Consolidation project contract was awarded by the state's Department of General Services.
Consolidating five existing CARB locations, currently spread across Los Angeles, into a single location near the University of California-Riverside will provide space for more than 400 employees. It will also include an extended range of test cells, an advanced chemistry laboratory, workspace for new test methods for future generations of vehicles, space for developing enhanced onboard diagnostics and portable emissions measurement systems, offices, visitor reception and education areas, a media center, flexible conference areas and a public auditorium.
The CARB facility is intended to achieve LEED Platinum certification and to meet California's CALGreen Tier 2 threshold for overall sustainability and energy efficiency.
The facility will include a three-story, pinwheel-shaped building. Vertical connections are intended to increase interaction between departments. Horizontal circulation is intended to provide links with testing areas, support space and laboratories. This pinwheel concept creates a Central Command Control area that forms the nexus of the new CARB campus.