Aging nuclear power plants will require advanced welding techniques for the repair or replacement of irradiated materials. Demonstration of such techniques is crucial for extending the service life of these plants as well as for containing costs.
A constraint to the use of available welding routes is the generation of helium in reactor core components, which weakens metal and increases prospects for post-weld cracking.
A new welding system specifically designed to repair highly irradiated materials was recently tested at the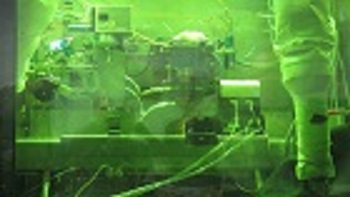 The welding system is sealed in stainless steel to prevent the escape of radioactive contamination and other particles generated during welding of irradiated materials. Source: DOE LWRS and EPRI LTOU.S. Department of Energy's Oak Ridge National Laboratory (ORNL) with collaborators from the Electric Power Research Institute. The system safely encloses equipment for laser and friction-stir welding, and will allow researchers to advance welding technologies for repair of irradiated materials by developing processing conditions and evaluating post-weld materials properties.
The initial trials applied a laser welding technique that uses a primary laser to weld and secondary beams to reduce tensile stresses near the weld zone. Irradiated stainless steel doped with 5, 10 and 20 parts per million (ppm) of boron atoms were fabricated into playing-card-sized samples at ORNL and then irradiated at the facility's High Flux Isotope Reactor (HFIR).
Unlike conventional arc welding, which employs molten materials, friction stir welding is a solid-state mixing technique that uses a rotating tool to generate friction and heat that softens materials but does not melt them. The process occurs below the melting point, avoiding cracking in repair welding of irradiated and helium-bearing materials. An artificial neural network monitors friction stir welding to detect conditions that can cause weld defects.
"Both repair welding technologies developed in our program are engineered to 'proactively' manage the stresses during welding so they potentially offer solutions for repairing [internal] reactor components with high helium levels — impossible with today's welding repair technology," explains Zhili Feng, who leads ORNL's Materials Joining Team. "As reactors continue to age (and helium continues to be generated), industry increasingly needs technologies to handle high-helium-level scenarios."
The researchers will next explore welding materials with higher helium content and characterize the irradiated materials after they've been welded, with techniques including microstructural analysis and mechanical property assessments. They will also re-age material in HFIR that has undergone a weld repair to see how further aging affects welds.