Bioinspired Vortex Generators Could Lead to More Aerodynamic Drones, Wind Turbines and Planes
Peter Brown | February 07, 2018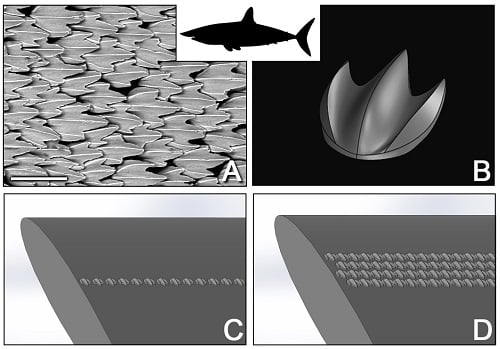 Environmental scanning electron microscope image of denticles from the shortfin mako shark and its corresponding parametric 3D models. Source: Harvard University Sharks have lived for more than 400 million years. In terms of evolution, that is quite a long time to figure out the most efficient way to move through water using their bodies to glide at a rapid but proficient way.
Researchers at Harvard University used the efficiency of sharks in their development of a new bioinspired structure that could improve the aerodynamic performance of planes, wind turbines, drones and cars.
A shark's skin is covered by thousands of small scales, known as denticles, which vary in shape and size around its body. While scientists know a lot about the structure of the denticles, their function is still under debate.
The Harvard team decided to focus on whether these shapes are actually better suited for increasing lift, whereas previous research focused on the drag-reducing properties of sharks. To test this theory, researchers worked with the Harvard John A. Paulson School of Engineering and Applied Sciences (SEAS) and focused on the shortfin mako, the fastest shark in the world.
The denticles of the mako have three raised ridges and using micro-CT scanning, the team modeled the denticles in 3D and then 3D printed the shapes on the surface of a wing with a curved aerodynamic cross-section, known as an airfoil.
Harvard then tested 20 different configurations of denticle sizes, rows and row positions on airfoils inside a water flow tank. They found that while the denticles did reduce drag, the structures also significantly increased lift—acting as a high-power vortex generator, a device designed to alter the airflow over the surface of a moving object to make it more aerodynamic and commonly found in cars and planes.
"These shark-inspired vortex generators achieve lift-to-drag ratio improvements of up to 323 percent compared to an airfoil without vortex generators," says August Domel, a Ph.D. student at Harvard involved in the research. "With these proof of concept designs, we've demonstrated that these bioinspired vortex generators have the potential to outperform traditional designs."
Researchers believe these vortex generators could be used on wind turbines or drones to increase the efficiency of the blades. The results could lead to new paths for improved, bioinspired aerodynamic designs.
The full research can be found in the Journal of the Royal Society Interface.