Forensic botany. Forensic social work. Forensic meteorology. The Wikipedia entry for forensic sciences lists 40 specialty areas. The common meaning across these applications of "forensic" is "the application of science to criminal and civil laws mainly – on the criminal side – during criminal investigations, as governed by the legal standards of admissible evidence and criminal procedure." More specifically, forensic engineers apply the art and science of engineering in matters related to the jurisprudence system.
The specialty of forensic engineering emerged in the mid-19th century, although the term did not come into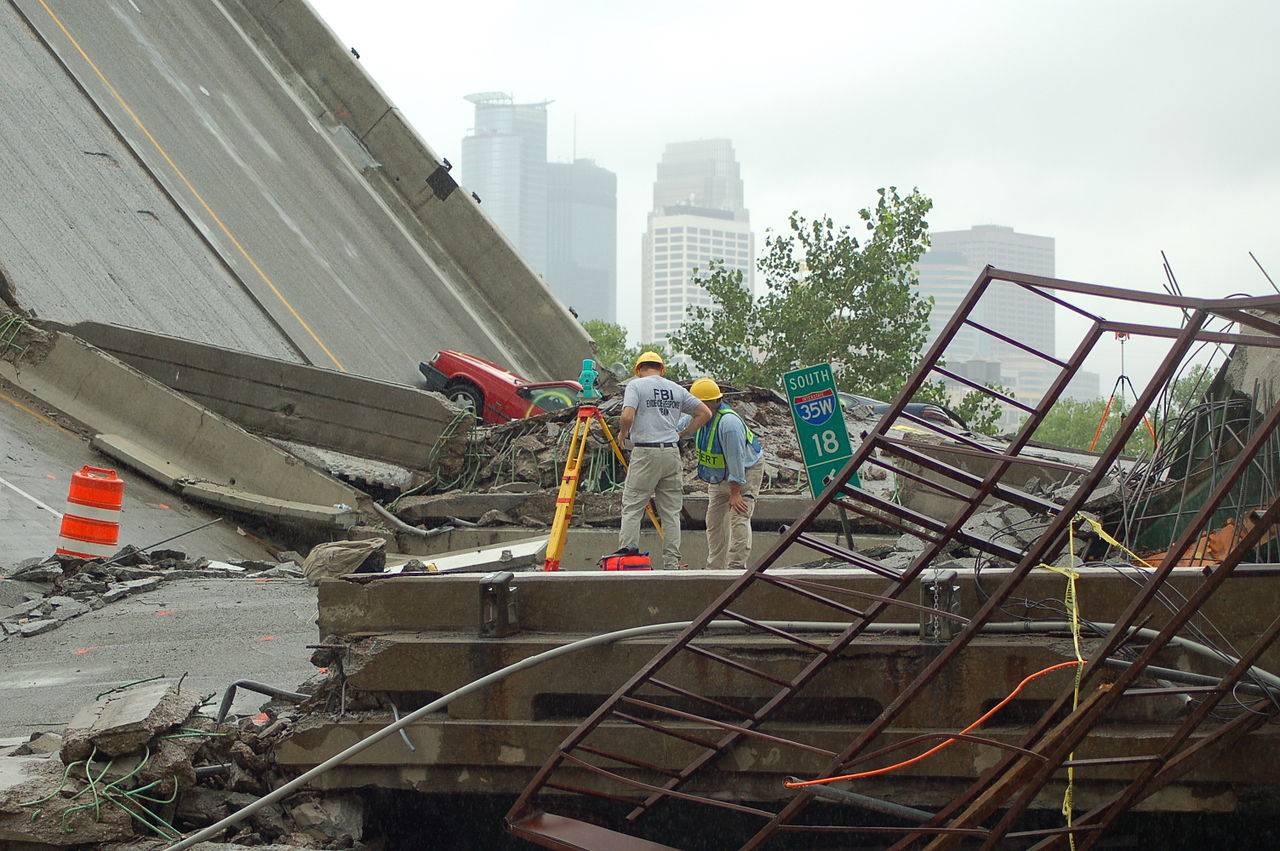 FBI Evidence Response Team surveys the collapsed portion of I-35W Mississippi River bridge in Minneapolis, 2007. Credit: Kevin Rofidal, U.S. Coast Guard general use until the 20th century. The spectacular failure of the Tay Bridge in Scotland killed at least 60 people and dumped a railroad train into the Firth of Tay. The accident prompted an extensive and detailed investigation into the bridge's design, materials of construction, erection, maintenance and related issues. A host of engineers and scientists uncovered many deficiencies that led to improvements in bridge design and construction. Britain's Open University developed a 21st-century educational module that applies current forensic techniques to the Tay Bridge disaster.
The field has expanded over the decades to encompass engineering specialties from civil and mechanical engineering to naval architects and software engineers; qualifications, training and licensing have been standardized. The National Academy of Forensic Engineers (NAFE), founded in 1982, certifies U.S. engineers and sets ethical and professional standards for its members.
What Do Forensic Engineers Do?
Most forensic engineers got into the field by accident, often by serving as a technical expert for an attorney in a lawsuit. NAFE 2017 President Michael Leshner says that engineers continue to do forensic work, "Because they learned something new and got some satisfaction from being involved in the cases. And it pays pretty well." The work offers variety and the opportunity to do "real" engineering - figuring out how and why a building, bridge or system failed and how to prevent such failures in the future.
Day-to-day work could involve reconstructing an industrial or traffic accident, determining whether a bridge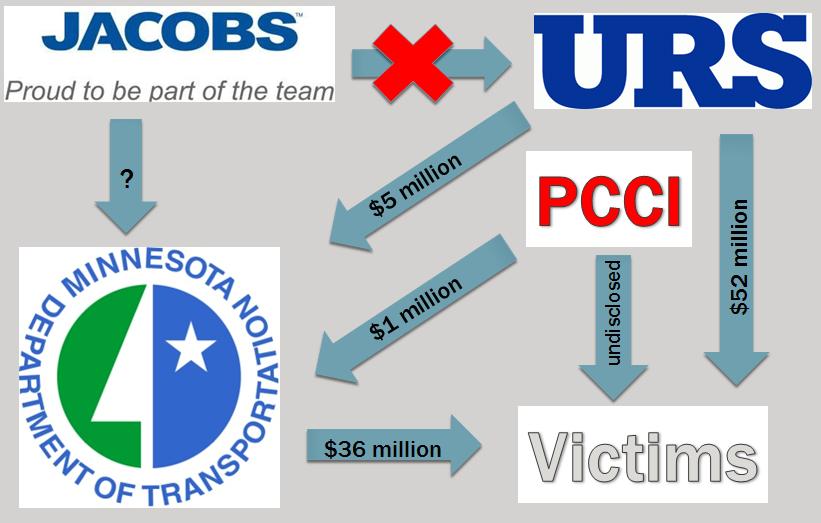 I-35W Mississippi River Bridge investigation outcome diagram. Credit: Hylton/CC BY-SA 3.0element failed from metal fatigue or reviewing designs for a proposed structure. For example, in one case an engineer cleared a convicted murderer by demonstrating that the tire marks used to put him at the scene could not have been made by his car's tires.
Engineers do not lack for sophisticated investigative and testing techniques. Some consultancies have in-house laboratories and expertise to provide these specialized services. Materials inspection and testing techniques like infrared spectroscopy and NMR spectroscopy provide detailed information about materials. Reliability testing using accelerated life testing, fault tree analysis (FTQ) and failure modes and effects analysis (FMEA) looks at product reliability. Forensic engineers analyze such test results as part of their investigation.
The 21st century has produced the need for engineers versed in less traditional disciplines. Analysis of cyber vulnerability and digital forensics is a growing area of specialization. Some of these jobs look at the aftermath of security breeches; others try to identify potential problem areas and prevent them.
Often the end result of a forensic engineer's investigation will be some kind of legal proceeding – a civil or criminal trial or arbitration. Giving expert testimony requires thorough preparation: understanding the engineering aspects of the case and knowing how to present material understandably to a non-expert audience. When no trial is involved, the engineer provides the client with a detailed report.
Qualifications
Forensic engineering demands a level of experience and expertise that comes only from years of engineering practice. Kenneth O'Connell, president of O'Connell & Lawrence Engineering in Olney, Maryland, boils the experience qualification down to this: "What best prepares [an engineer] for forensic engineering is a lot of experience. What a person needs to do is go out and practice engineering and develop his or her craft for 10 or 12 or 15 years to acquire the expertise needed to become a forensic engineer."
In addition to a four-year engineering degree, NAFE requires candidates for board certification to have a professional engineer (PE) credential. PE certification requirements vary by state; each state offers its own exam and sets a minimum number of years of professional experience required before an engineer is eligible to stand for certification.
Successful forensic engineers also bring specific personal interests and strengths to the profession. Critical thinking, attention to detail and strong problem-solving skills are essential. Elucidating the root causes of an accident or a product failure can be like solving a mystery, so engineers who are motivated by the desire to solve mysteries would probably find forensic engineering challenging and satisfying.
Excellent communications skills, from the ability to interview people involved with a case to presenting findings in court, are essential. O'Connell points out that, "It is [the engineer's] job to convey what happened, and that sometimes means explaining complicated technical or contractual issues or construction processes to non-technical people like lawyers, judges, juries or arbitration panels."
Who Hires Forensic Engineers?
Many forensic engineers work for engineering consulting firms. Some firms offer a wide range of engineering services, from design and construction to testing and forensics; others specialize in forensic engineering. Government agencies with accident investigation responsibility, such as the National Transportation Safety Board, also employ forensic engineers.
Salary
PayScale.com reports that the median total annual compensation for forensic engineers is $82,231, with a range of $59,168-123,452. The median salary reflects earnings for an engineer with five to 10 years experience. These figures are based on reports from 148 individuals.
Job market
The U.S. Bureau of Labor Statistics expects demand for all engineering professions to grow about four percent from 2014 to 2024. O'Connell expects demand for forensic engineers to grow as the amount of litigation in the construction industry increases.