Backflow Blocked in New Lab-on-a-chip Design
S. Himmelstein | January 27, 2018
A major challenge to the viability of lab-on-a-chip technology for medical diagnostics is the inability to reliably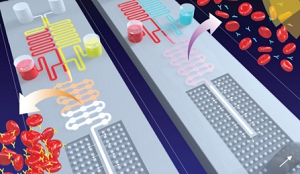 The illustration depicts agglutinated blood (left) and un-agglutinated blood (right) moving through a chip. The agglutinated blood moves slower (shown in the center chamber) compared to the un-agglutinated blood. Source: RSC Lab on a Chip.mix and transport bodily fluids through tiny valves and pumps. When blood is mixed with a reagent to produce a biological and/or chemical reaction, the pressure difference between the two fluids often causes them to flow backward instead of into the desired channel.
A remedy devised by University at Buffalo researchers uses both capillary- and vacuum-driven forces to control fluid flow in micro- and nano-sized channels. A microchip designed by the team accurately identified the eight blood types based upon the time it takes for different blood types to flow through the device. For example, when mixed with a certain antibody, Type A blood will thicken and flow slower.
The chip requires no sensors or external sources of power, which could be key to the manufacture of inexpensive and disposable lab-on-a-chip products. The proposed device shows great potential for use in a variety of blood typing assays, agglutination-based assays and point-of-care or lab-on-a-chip testing applications.