Watch How an Acoustofluidic Device Assays Whole Blood
S. Himmelstein | September 20, 2017
A prototype device based on a combination of microfluidics and acoustics extracts exosomes from blood samples. These tiny particles may be biomarkers of disease and are so small that filtering them out of bodily fluids has proven to be exceedingly difficult. The new acoustofluidic method provides an automated, point-of-care system that allows on-chip isolation of exosomes with a high rate of purity and yield.
The system generates a sound wave transmitted at an angle to the liquid flowing down a microfluidic channel,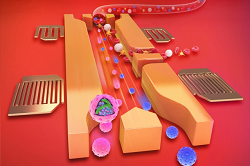 This schematic shows a microfluidic device that uses sound waves to separate exosomes (pink spheres) from other components of blood. (Courtesy of Mengxi Wu, Ming Dao, Subra Suresh, Yoel Sadovsky and Tony Jun Huang)resulting in the removal of cells and platelets from whole blood. The sample then enters a second unit in which higher frequency sound waves filter out everything smaller than 130 nm, which is about the size of most exosomes.
The dual-stage technique was shown to separate more than 80 percent of the exosomes present with a 98 percent purity, compared with centrifuge-based methods which capture only 5 to 40 percent of these particles.
The technology will be used to seek biomarkers that can reveal disease states. The method might be incorporated into a portable device that could analyze patient blood samples for rapid diagnosis, without involving the cumbersome and time-consuming ultracentrifugation method commonly used today.
Scientists from MIT, Nanyang Technological University in Singapore, University of Pittsburgh and Duke University participated in this research.