2015 a "Breakthrough Year" for Wireless Power Industry, IHS Says
Engineering360 News Desk | April 01, 2015
Global revenues for wireless power receivers and transmitters will grow to more than $1.7 billion this year, reports IHS. Total wireless power receiver shipments reached 55 million units in 2014, and will grow by 4,000% in 2024 to more than 2 billion units.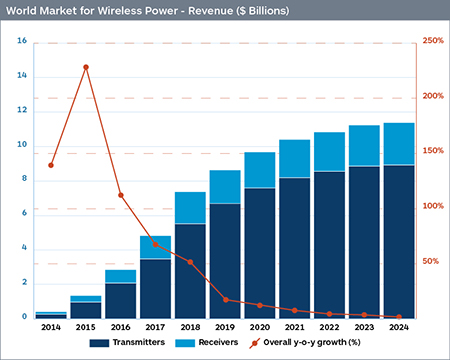 Industry revenue is forecast to increase by nearly $15 billion each year through 2024. Source: IHS "2015 looks to be a breakthrough year for wireless power technology," says David Green, research manager for power supplies and wireless power at IHS Technology. Major product launches earlier this year have revealed what he says is a "clear commitment to wireless charging from leading brands" such as Samsung with its Galaxy S6 and S6 edge smartphones as well as Apple with its Apple Watch.
IHS consumer surveys conducted last year found that 63% of consumers still did not understand about wireless charging.
"End users do not care which technology or standard their device uses, they just want it to work well," Green says.
IHS predicts that shipments of dedicated, tightly coupled solutions will not be overtaken by loosely coupled solutions until 2019, though multi-mode receivers that support more than one technology are predicted to comprise 30% of the market by 2018.
Industry revenues are forecast to increase by nearly $15 billion each year through 2024. "Whether a single, long-term solution will win out still remains to be seen," Green says. "It seems that dual mode charging will be the most popular short-term solution."