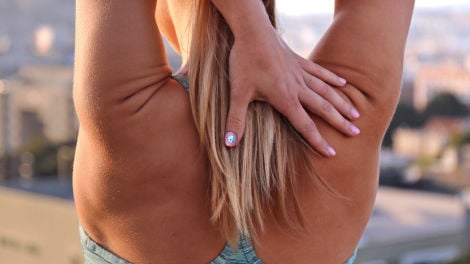 Source: L'OréalFrom L'Oréal — the maker of skin care and cosmetic products — comes a tiny sensor that is designed to be worn on a person's thumbnail, which links to a smartphone that tracks a person's exposure to the sun.
The sensor — which is called UV Sense — is powered by a capacitor that charges from a wireless NFC connection to the wearer's phone.
Worn on the thumb to guarantee maximum exposure to the sun, the device is just 9 millimeters wide and 2 millimeters thick, and houses all of the necessary components such as an ultraviolet sensor and status LED.
Working in combination with an accompanying iOS or Android app, the wearer receives notifications about UV exposure levels and warnings about the amount of time the wearer has spent in the sun.
UV Sense, according to its maker, is meant to prevent skin damage from UVA and UVB rays that contribute to wrinkles and other skin conditions. The device is expected to be rolled out in limited supply this summer and worldwide sometime in 2019.