Test Procedure May Improve Fast-charging Lithium-ion Batteries
S. Himmelstein | December 18, 2017
Fast charging is critical for the optimal performance of lithium-ion batteries in automotive applications, but the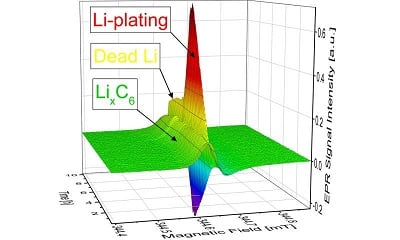 Electron paramagnetic resonance spectroscopy distinguishes lithium intercalated in the graphite of the electrode from "dead lithium" deposited outside of the electrode. Source: Johannes Wandt/Josef Granwehr/TUM/FZ Juelich charging rate is limited by the onset of lithium plating on the graphite anode. A new analytical technique for directly measuring lithium plating during battery charge provides insight into how the charging rate can be a factor limiting battery service life and safety.
During charging, lithium ions move from the cathode to a graphite anode, but if the charging rate is too high, lithium ions deposit as a metallic layer on the surface of the anode rather than inserting themselves into the graphite. The operando electron paramagnetic resonance (EPR) spectroscopy technique developed by German researchers detects the actual amount of lithium plating on a graphite anode in real-time.
EPR could provide a much-needed experimental validation of frequently used computational models, as well as a means of investigating the effect of new battery materials and additives on lithium metal plating. Fast charging for electric vehicles could be a key application to benefit from such research.
The EPR technique was engineered by scientists from Technische Universität München (TUM), Forschungszentrum (FZ) Jülich and RWTH Aachen University.