Extracting Value from Greek Yogurt Acid Whey
S. Himmelstein | December 14, 2017
Every liter of milk that goes into milk products, such as Greek yogurt, produces another two liters of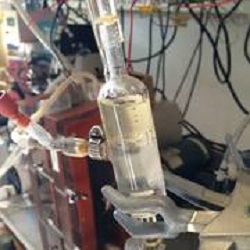 Bio-oil derived from acid whey could be used as animal feed or aviation fuel. Source: Lars Angenent, University of Tübingenwastewater in the dairy factory. This acid whey waste product cannot be fed to animals in large quantities and must be treated or transported to farms for use as a fertilizer.
Researchers in the U.S. and Germany have developed a biological process to convert leftover sugars and acids from Greek yogurt into molecules that could be used in biofuels or safe feedstock additives.
The whey was transformed into useful products by use of anaerobic reactor microbiomes, open-culture platforms that require no sterilization. Two microbiomes were operated in series: the first tuned for microbes viable at temperatures of 50 degrees Celsius, the second set at 30 degrees Celsius. The scheme effectively converted whey constituents into valuable medium-chain carboxylic acids, such as n-caproic acid (n-hexanoic acid) and n-caprylic acid (n-octanoic acid), without addition of external electron acceptors.
These compounds are viewed as green antimicrobials that can be fed to livestock instead of antibiotics. Additional processing could yield drop-in bio-jet fuel.
The research conducted by scientists from Cornell University, NY, and the University of Tübingen, Germany, is published in the journal Joule.