Dairies Could Clean-in-Place with Water Recycled from Whey
Engineering360 News Desk | April 20, 2016
Researchers from the University of Nebraska–Lincoln (UNL) have demonstrated an effective method for recycling and reusing water from whey for clean-in-place systems in food processing plants.
Water is necessary for many applications in the dairy industry, including equipment cleaning, which can use up to 60 liters of water per kilogram of processed milk. But current regulations dictate that only potable water may be used to clean food contact surfaces and equipment surfaces.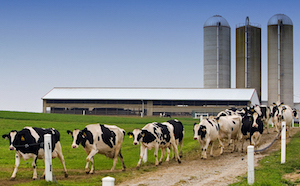 Equipment cleaning can use up to 60 liters of water per kilogram of processed milk. Image credit: Pixabay.In their study, published in the Journal of Dairy Science, Professor Rolando Flores and research assistant Yulie Meneses, of UNL's Food Science and Technology Department, tested wastewater from whey—a by-product of cheddar cheese production—by subjecting it to reverse osmosis and ultrafiltration, as well as an additional step of spray drying. The resulting reconditioned water was used to clean stainless steel surfaces that had a biofilm, with promising results as measured by both bacterial count and scanning electron microscopy analysis.
"Using the combined ultrafiltration and reverse osmosis system, 47% of water can be recovered from whey," Meneses says. "This demonstrates the viability of our method for wastewater [recycling], as the cleaning efficiency was comparable to potable water in clean-in-place systems," adds Flores.
Further, by incorporating spray drying and condensation into the process, recovery of additional water can be achieved. After suitable treatment, that water could also be used in cleaning applications or other activities with high water demand, the researchers say.
"Sustainable production and manufacturing is a priority for the dairy industry," notes Journal of Dairy Science Editor-in-Chief Matt Lucy. "This new research demonstrates that an unwanted by-product of dairy manufacturing (whey) can be processed to generate clean water, saleable food and additional revenue for dairy manufacturers."
The researchers caution that, despite their potential for generating revenue and conserving natural resources, these wastewater reclamation techniques require further study to investigate risks and broader environmental issues relating to the process.