Watch, Then Drink Your Tofu: A Healthy Whey to Make Alcohol
S. Himmelstein | November 28, 2017
The production of tofu, widely used in Asian cuisines, generates large volumes of whey as a by-product. The whey is typically discarded as a waste and can contribute to oxygen depletion in aquatic systems.
Researchers from the National University of Singapore (NUS) have found a potable use for tofu whey. They have produced the world's first tofu whey alcoholic beverage. The process is zero-waste and yields an antioxidant-laden beverage that is good for your health, too. The fermentation scheme completely utilizes the tofu by-product and enriches the drink with isoflavones, which are naturally occurring antioxidants.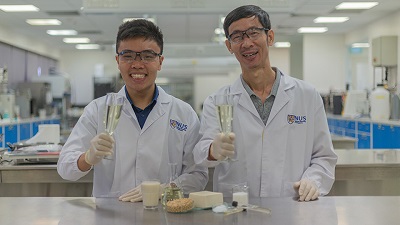 Associate Professor Liu Shao Quan (right) and PhD student Mr. Chua Jian Yong (left) successfully turned tofu whey into a tasty alcoholic beverage that they named Sachi. Source: NUS
"The health benefits associated with soy products, coupled with changing preferences toward vegetarian diets, have fueled the growth of tofu production. As a result, the amount of tofu whey has also increased proportionally. Alcoholic fermentation can serve as an alternative method to convert tofu whey into food products that can be consumed directly," explained Associate Professor Liu Shao Quan.
Given the Japanese-inspired name Sachi — which means "blossoming wisdom" — the beverage is slightly sweet with fruity and floral notes, and has an alcohol content of about 7 to 8 percent.
Creating Sachi takes about three weeks — from making fresh soy milk from soybeans and using soy milk to make tofu, to collecting whey and fermenting it with a mixture of sugar, acid and yeast.