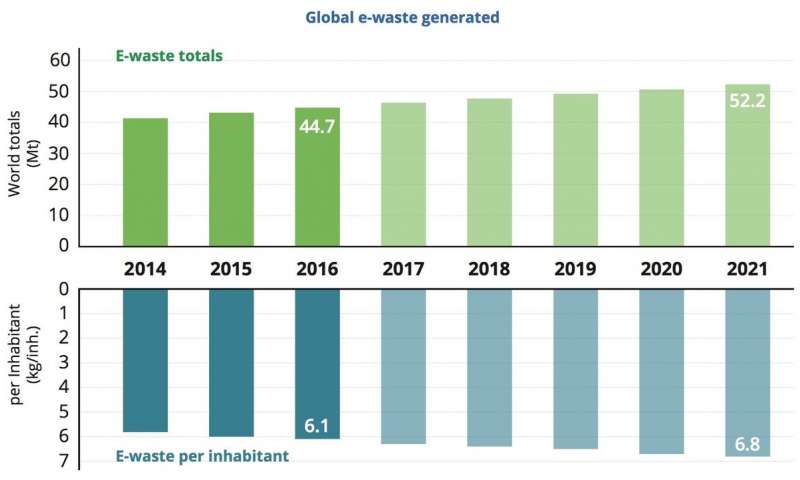 Global e-waste — discarded products with a battery or plug — shows a staggering 44.7 million metric tonnes (Mt) generated in 2016 — up 3.3 Mt or 8 percent from 2014. Source: Global E-waste Monitor 2017 The UN is calling for improved electronics waste (e-waste) recycling as discarded products such as refrigerators, cell phones, televisions and laptops clog landfills worldwide, often releasing toxic ingredients into the environment.
According to a report from the UN's International Telecommunication Union (ITU), the UN University (UNU) and the International Solid Waste Association, 44.7 million tonnes of e-waste was generated worldwide in 2016 — an 8 percent increase over 2014 figures. Without improved recycling initiatives, the issue is expected to worsen, with some experts predicting 52.2 million tonnes of unrecycled e-waste by 2021.
With only 20 percent of the e-waste generated last year being recycled — 8.9 tonnes — concern mounts for the currently unrecycled e-waste, which can often be harmful to both humans and the environment.
"E-waste management is an urgent issue in today's digitally dependent world, where use of electronic devices is ever increasing," ITU chief Houlin Zhao said in a statement.

Apart from the impact on both health and environment, experts also recognize that recycling could result in the recovery of raw materials — such as gold — potentially worth $64.6 billion (55 billion euros).
While experts are optimistic about the growing number of e-waste management policies being adopted in many countries, they also believe that more can be done, particularly by makers of the electronics.
Solutions recommended by e-waste experts include having companies reduce cell phone replacement cycles and offering customers the chance to participate in programs where they don't purchase devices but only the services offered by the provider.