Proper Maintenance Procedures for Excavators
Ken Thayer | December 12, 2017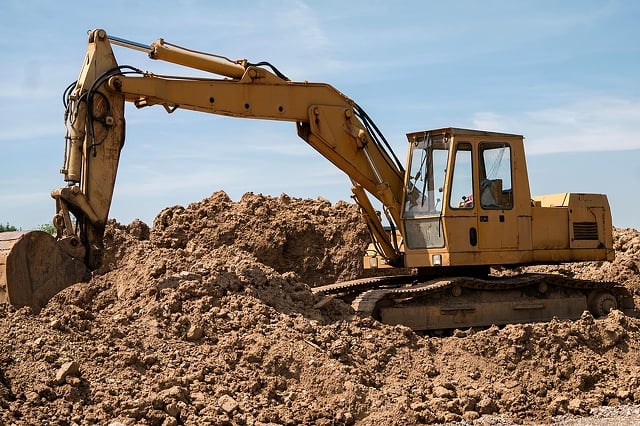 Excavators are heavy construction equipment with a bucket on the end of a jointed boom and a rotating cab referred to as the "house," located on top of an undercarriage containing tracks or wheels. Designed for digging earth, loading material onto trucks and digging trenches, they are subjected to harsh conditions, often operating in the rain, hot sun, snow or mud. Just like an automobile, truck or any other piece of construction equipment, proper routine maintenance is critical to keeping them in good working order.
Proper maintenance maximizes fuel efficiency and reduces operating costs as well as equipment failure. Every minute an excavator or other heavy equipment is offline due to a breakdown costs the operator money in wages and lost productivity. Scheduled maintenance can help contain these expenses and maximize productivity.
An important part of all construction equipment maintenance is proper recordkeeping. Keeping this information up-to-date will help when evaluating the service life of the machine. Accurate records will also help prove that the machine has been properly serviced if the need to discuss issues with a dealer or manufacturer arises.
Daily Inspection Checklist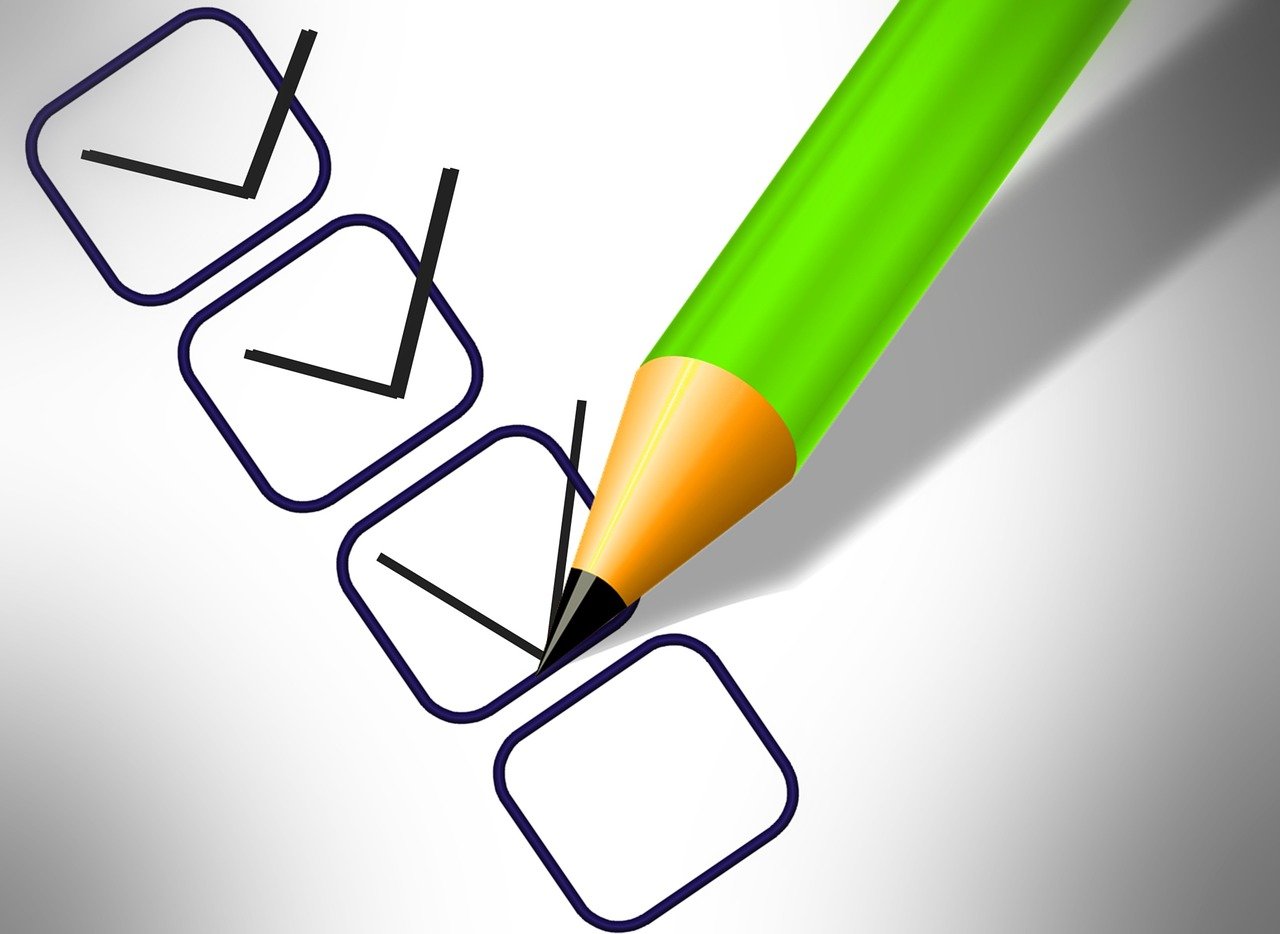 Take the time to perform a daily walk-around inspection before operating the excavator. The inspection does not require much time and can easily pay for itself if an issue is discovered.
The following items should be checked prior to operation:
Check to make sure there is enough coolant
Check engine oil and hydraulic oil levels
Check for leaks in compartments and under machine
Check track (see Undercarriage below for more detailed information)
Check coolers to make sure they are free of debris
Drain water from fuel/water separator
Check dust ejector from air filter
Make sure teeth are present on bucket and they are in good condition
Check wear plates on bucket
Grease all pins and bushings daily
Check controls and seat belt in cab and make sure they are operating properly
Turn on machine and check controls, windshield wipers, seatbelt and air conditioning system
Remove trash and debris from cab
Undercarriage
The undercarriage is an expensive part of owning and operating an excavator. When operating the machine, always work and dig over the idler, as opposed to the side or back of the excavator, and operate the machine in the forward direction as much as possible to avoid excess wear. If the excavator needs to sit for extended period of time, start the machine every few months and exercise the track to avoid pins seizing.
The following items should be inspected to ensure proper track operation:
Look for loose bolts on track and tighten if necessary.
Look for bent shoes on tracks. The shoes support each other and one bent shoe can lead to additional bent shoes.
Replace bent or damaged guards and guides on bottom of track ("rock guides").
Inspect sprocket and drive at rear of track for oil leaks and to make sure all bolts are present and tight.
Clean out debris from around track and adjust track tension if necessary to avoid excess wear (Note: Do not run tracks too tight — refer to maintenance manual for proper tension.)
Make sure cotter pins in the master link are present.
The propel gearbox is frequently overlooked but is a vital component of machine performance. Gearbox oil should be changed at approximately 1,000-hour intervals, depending on the excavator manufacturer.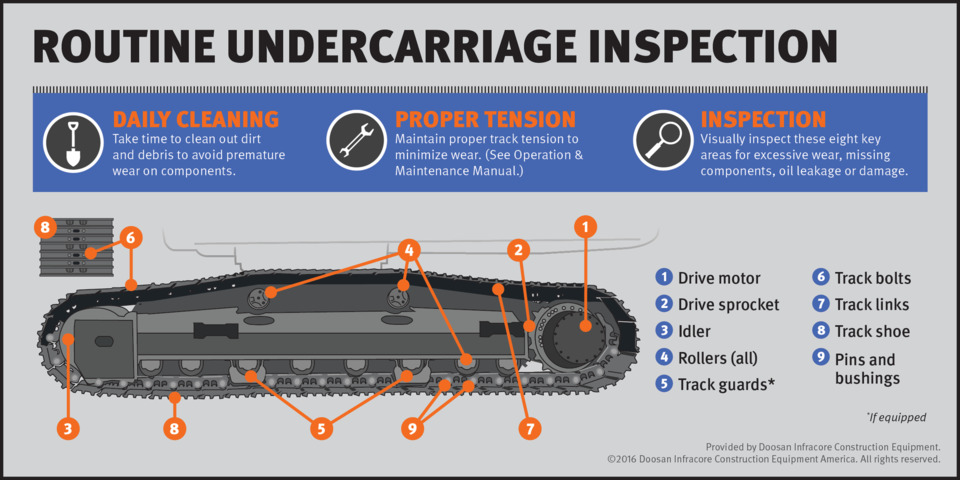 Undercarriage inspection. Source: Doosan Infracore Construction Equipment
Changing Air and Fuel Filters
Proper maintenance of air, fuel and hydraulic filters is an important maintenance requirement for equipment operating in dirty and wet conditions. Refer to the operator manual and follow the instructions carefully when changing air or fuel filters. Shortcuts are a common cause of contamination and problems.
Hydraulic oil is filtered on return to the tank and not the pressure side. To check or clean the hydraulic oil filter, release the pressure to the tank by loosening the cap. Clean the oil filter cap to prevent dirt and debris falling into the filter; remove the filter cap and then clean away any dirt from the top of the filter. Remove the filter and clean if necessary, making sure to follow the instructions carefully. Finally, reassemble, inspecting O-rings and components for damage and dirt.
Swing Bearing and Swing Gear Maintenance
The swing gear is a vital component and is often neglected when servicing the excavator. Both the bearing and the gear should have proper lubrication and be free from contamination. Make sure bearing is greased properly and inspect the swing gear to make sure enough grease is present and water or dirt hasn't leaked into the compartment.
Spark Plugs
When checking or changing the spark plugs, make sure to clean and re-gap spark them. Do not forget to clean the threads and seat area and change the gasket before reinstalling the spark plug. Also, it is important to use proper torque when reinstalling spark plugs (refer to operator manual).
Low Power Troubleshooting
When troubleshooting a perceived low power issue, start with the simple things first. Look at the air filters and fuel filters for restrictions, such as leaves, and remove or clean if necessary. Measure the actual cycle times and compare to the specified service times in the service manual. This will determine whether there is an actual problem or a perceived issue. A valve adjustment may be required, but this is a more complex issue and may need to be performed by the dealer.
Following these maintenance procedures and keeping proper records will help reduce operating and unscheduled maintenance costs and keep your excavator in peak running condition.