Major automakers are experimenting with a new type of car ownership — offering customers subscriptions instead of multi-year leases or outright sales.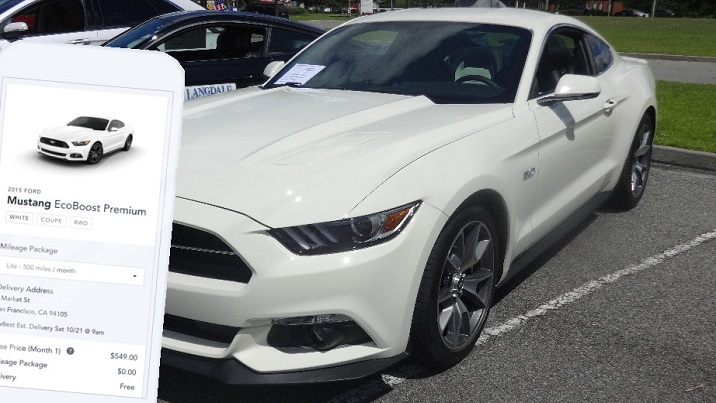 Subscription car services allow customers to pick vehicles online and then pay a monthly service fee. Source: Ford Canvas; Michael Rivera/CC BY-SA 4.0
Ford, Cadillac, Porsche and Volvo are the current entrants in this fledgling market. Each vehicle comes with a mileage limit that the customer selects and users pay a premium for going over the prescribed mileage, but unused miles also roll over to the next month or year. Additionally, subscriptions include maintenance, insurance, roadside assistance and registration. If a user tires of their vehicle or finds they need more space or better gas mileage, he or she simply selects a different vehicle online and arranges a delivery.
Automakers are appealing to tech-savvy Generation Y consumers who have become accustomed to flexibility and choice when buying essential services. Increasing focus on alternative transport for environmental reasons and the growing prevalence of ridesharing means consumers have more personal transportation options than ever before, so manufacturers are seeking new ways to maintain their respective marketshares by reaching an emerging demographic in innovative ways.
Services like this also take the hassle out of comparing insurance quotes, maintenance costs and department of motor vehicle paperwork. In a sense, car ownership becomes more like a cell phone plan. Users are subject to credit and background checks and may need to enter an annual or biennial agreement.
Right now, the programs are limited in scope and availability.
Other manufacturers are taking note. Audi has launched Audi On Demand, although it is more akin to car sharing than a recurring subscription. Additionally, experts and analysts have predicted that car ownership in the age of autonomous automobiles will starkly contrast with what has been the traditional vehicle sales and leasing business models. It's possible that subscription-based auto services are the first step to absolving drivers of personal vehicle ownership altogether.

With 30 models and unlimited vehicle swaps in the Porsche Passport program, members could theoretically drive a different car each day of the month. Source: Porsche
There are also some obvious downsides to this concept. Consumer choice is limited by the vehicle models, colors and trims available, but also by what companies have paired with the subscription services. For example, Ford Canvas autos come with Liberty Mutual insurance, even if another coverage option might be cheaper. People are also limited by how personalized they can make their vehicles — Foxy Grampa bumper stickers (or any bumper stickers for that matter) won't be acceptable on a vehicle the subscriber doesn't own. Lastly, users are not building equity into a vehicle and will lack negotiation leverage when looking to purchase or lease in the future. Users should not expect the option to buy their vehicle at the end of a subscription, as they would with a lease.
Right now these subscription auto services are little more than pilot programs. It is entirely possible that consumers reject the subscription model or automakers find the programs ahead of the times.
Nonetheless, there is something very appealing about driving to work each day in a different Porsche.