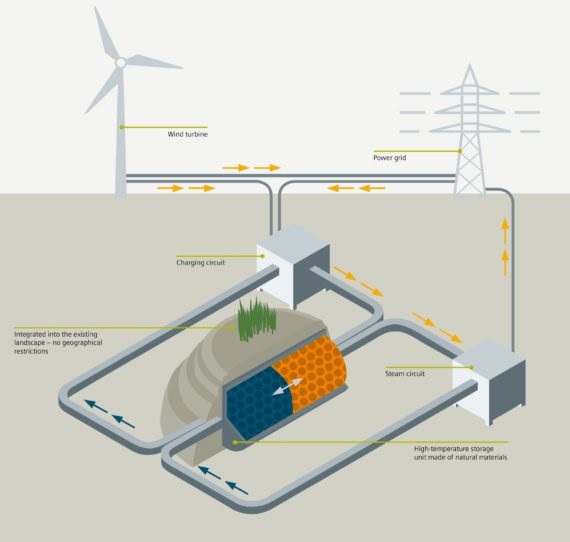 Schematic of the energy storage system. Source: Siemens Gamesa Renewable Energy
Siemens Gamesa Renewable Energy has been researching and developing the concept of converting energy to heat in rock-fill for wind energy storage. The company has started construction of its first full-scale Future Energy System project in Hamburg, Germany.
The facility under development at an aluminum smelter site will feature approximately 1,000 tons of rock fill that will be heated and serve to store excess wind energy. The system will be able to provide 30 MWh of electric energy at temperatures of 600° C. When additional electricity is demanded, a steam turbine converts the heat energy back into electric power and a 1.5 MW generator produces energy for up to 24 hours, supplying the electric power needs of 1,500 average German households. The output could also be used to charge the batteries of 50 electric vehicles.
Researchers have been optimizing the design of the insulated container to house the rock fill. The rounded ferroconcrete structure will have tapered diameters at the inflow and outflow openings. The entire storage system will be covered with a 1-m-thick layer of thermal insulation.