In the early morning hours of July 6, 2013, an unattended 4,700-foot freight train with dozens of oil tank cars barreled into the Quebec town of Lac-Mégantic, derailed and caused a massive explosion. The Lac-Mégantic rail disaster killed 47 people and is the deadliest Canadian rail disaster to not involve a passenger train to date. While the accident had many factors, including failure to set key brakes on many of the cars, it also resulted in safety improvements to oil tankers in the form of the new DOT-117 specifications.
As rail companies upgrade to DOT-117 cars, however, they face a dilemma as to dealing with their old DOT-111 tankers. Rail car storage is a perennial issue for rail companies, and the dilemma is significant for both the rail companies — financially and regarding public relations — and environmental groups who worry about the effects of stored tankers and other cars on wildlife and tourism.
The battle between a rail company and environmental advocacy groups has been playing out in the six-million acre Adirondack Park in Upstate New York this year. Iowa Pacific Holdings, a Chicago-based rail company that operates the scenic Saratoga and North Creek Railway in the area, first proposed storing decommissioned DOT-111 tankers on track siding within the park in 2015. The company abandoned this original plan to store the cars after encountering pressure from local groups.
In September of this year, however, the company announced it would be moving dozens of cars into the park for storage. Once again facing opposition from environmental groups, Iowa Pacific's legal counsel stressed that the company itself, which owns the tracks, has sole jurisdiction over railroad operations in the area and therefore did not need permission.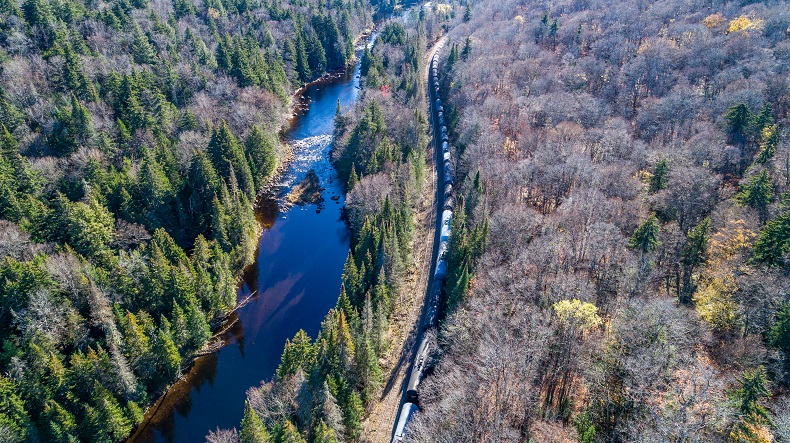 A line of stored Iowa Pacific tank cars along the Boreas River in Minerva, N.Y. Source: Brendan Wiltse
Railcar storage is a common source of income for railroad companies, who rent their unused track to railcar owners or lessors looking to store their unused rolling stock. But issues arise when tracks traverse protected natural areas like the Adirondack Park.
"We are concerned about both [environmental and visual issues]," says John Sheehan, Director of Communications for the Adirondack Council, a local advocacy group. "It's hard for us to judge the relative risks of oil contamination without knowing how much oil remains in those cars, but the Upper Hudson River watershed in which these cars are parked serves as drinking water for a lot of people. We can see fresh oil stains on the gravel between the rails that has dripped out of the supposedly empty DOT-111 tank cars currently parked along the Boreas River."
"New York spent more than $30 million to purchase the Boreas Ponds tract near this line, as well as tens of thousands of acres of other new public lands in this area over the past 10 years," Sheehan added. "This investment was made with the intent of promoting quiet outdoor recreation in a stunningly gorgeous wilderness setting. A half-mile line of rusty, vandalized rail cars really spoils the beauty for miles around."
Tankers in the Wilderness
Just how dangerous railcar storage is to a natural area is difficult to estimate. Most cars are made of steel, with some aluminum, glass, plastic and wood involved in the construction. If these materials have been properly inspected and maintained, they likely pose little risk to the environment during long-term storage. The interior of tankers like those stored in the Adirondacks are often coated with a film that protects their walls, but hazards related to these coatings are minimal in their cured states. In some cases, improperly maintained hydraulic brakes may leak fluid into the environment.
Markings indicating various types of steels on a stored coal car near North Creek, N.Y. A freight car's materials of construction likely pose little risk to the environment. Source: Engineering360 / Jonathan FullerFor tankers and other freight cars, the previously transported material is more worrisome. Most DOT-111 cars haul crude oil, which is less volatile than other hazardous materials but still detrimental when spilled into the environment. Particularly sour crude oils can contain hydrogen sulfide (H2S), a poisonous and highly corrosive sour gas. Tankers that have undergone emptying and inspection still have a film or sludge caked to their interior, which can leak out during storage. While dripping oil may seem like a non-issue, small amounts of crude oil can lead to larger contamination issues. According to the U.S. Environmental Protection Agency (EPA), a single gallon of spilled crude oil can contaminate 1 million gallons of water.
The crude oil's source may also play a part in its environmental effects. Much of the crude oil transported in the U.S. originated in the Bakken Formation. A number of sources, including a 2014 Wall Street Journal report, claim that Bakken light crude is highly volatile and releases chemicals such as methane, ethane, propane and pentane more easily than other crude oils. This volatility results in rising pressures within the tanker during transport, and often deadly explosions if the train derails. Some authorities cite this volatility as a cause of the Lac-Mégantic disaster, as those tankers exclusively contained Bakken light crude. Although pressure buildup within stored tankers is a non-issue, spilled volatile oils like Bakken crude may vaporize into the environment and contaminate it with hazardous chemicals.
Ongoing Tensions
Tank car storage remains a major issue for rail companies. Several factors — including a rolling back of U.S. shale oil production, the completion of new pipelines and the DOT-117 upgrade — caused large rail lines to have a large surplus of tankers that must be stored on sidings. Smaller rail lines, like Iowa Pacific, provide these sidings in exchange for much-needed income.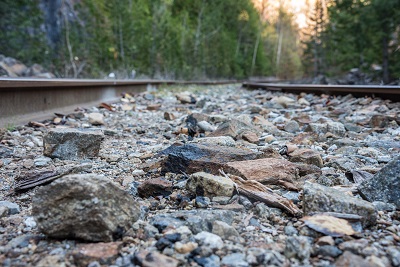 Spilled crude oil near stored tank cars in Minerva, N.Y. Source: Brendan WiltseThese activities often cause tension, however, in the Adirondacks and elsewhere. In the Goose Island neighborhood of Chicago, for example, residents battled Iowa Pacific in September to remove tankers parked on Iowa Pacific's tracks. The company removed the cars but still plans to store cars there in the future.
In Upstate New York, the case continues to unfold. Environmental advocacy groups are petitioning state and local governments to put a stop to railcar storage near protected areas.
"It is unsightly, it is out of character with the Adirondacks, nobody goes to the Adirondacks to look at old trains, they go there to look at the natural beauty," said N.Y. Governor Andrew Cuomo in a speech last month. "We don't own the tracks, there is a question as to what legal right we have to oppose it, but we oppose it 100% and we are going to do everything we can do to stop the owner from storing the trains on those tracks."
Gov. Cuomo is correct that Iowa Pacific owns the tracks, but railroad law is complex. Local governments in other parts of the U.S. have prevailed against railcar storage in their areas, but it remains to be seen whether local groups and governments in New York have a legal leg to stand on.
References
Big Rail's Little Cousins Find Boon in U.S. Oil-by-rail Bust
Association of American Railroads: 2017 Field Guide for Tank Cars
EPA: Spill Prevention, Control and Countermeasure Regulation