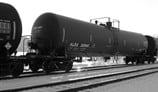 Oil exports by rail are up. Source: Flickr
Tight pipeline capacity and oil sands production growth is pushing more Canadian oil onto rail cars for transport to the U.S., the Reuters news agency reports.
Canadian crude-by-rail exports reached a six-month high of 137,000 barrels per day in October, according to data from the National Energy Board.
Reuters says that October was the third straight month in which rail exports climbed. Volumes rose 2 percent from September, and were up 33 percent from the same month in 2016 when Canada shipped 103,000 barrels per day of crude by rail.
The amount of crude carried by rail out of Canada is expected to surge in 2018 as oil sands output grows and outpaces capacity of export pipelines.