Expanding the PARADIGM® Shift in Grinding Technologies
November 13, 2017
Sponsored Content
Figure 1. Norton Paradigm grinding wheel and magnified image of highly uniform, porous metal bond structure. Source: Norton | Saint-Gobain AbrasivesSponsored content
Norton Paradigm grinding wheels use a hybrid bond that combines the porosity of vitrified bonds with the grit retention of metal bonds. Porosity provides clearance for swarf or grinding chips, preventing wheel loading. The porosity in Paradigm wheels decreases the wear interaction between the bond and workpiece. Coolant is captured by the porosity and then distributed closer to the abrasive workpiece interface, which reduces friction and wear of the grit cutting edges. The coolant can also wash out swarf and enhance metal removal rate.
Norton Paradigm wheels provide the wear resistance and form holding of metal bond wheels and the profiling ease of vitrified bond wheels.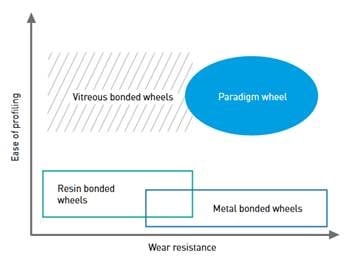 Figure 2. Diagram showing the performance of Paradigm versus traditional super-abrasive bonds. Source: Norton | Saint-Gobain AbrasivesThe porosity and metallurgy can be tailored for different types of grinding. For instance, the P100 series bond is versatile and free cutting for low-force applications, while the tougher P200 series bond is the best performer for high-force applications and improved form holding.
Compared to conventional non-porous metal bonds, Norton Paradigm bond technology allows higher concentrations (2:1) of abrasives to bond, as well as the utilization of finer grit sizes. The higher concentrations of finer grits present a wheel face with more cutting points per unit area, reducing the surface finish and force and grit.
Proven Success and Unbeatable Performance in Tool Grinding
While introduced to the tool grinding industry only five years ago, Norton Paradigm super-abrasive wheels have become the standard for manufacturing engineers for improving productivity, maximizing throughput, optimizing operations and enhancing ground part quality. Paradigm wheels are cool-cutting, have long wheel life, and are easy to dress, resulting in consistently superior grinding on tungsten carbide, ceramic, and cermet inserts, and round tools.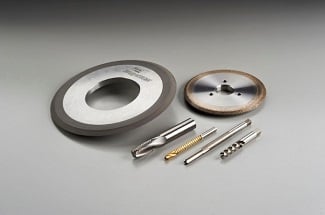 Figure 3. Paradigm grinding wheels for rotary carbide cutting tool manufacturing. Source: Norton | Saint-Gobain AbrasivesNorton Paradigm grinding wheels' superior performance includes:
Load resistant wheel surfaces
Higher wear resistance — abrasive edges stay sharper longer
Longer wheel life — holds form longer between dressing cycles
30 percent higher material removal rate
High G-ratio (volume of material removed to wheel wear) up to 2.5:l
Lower force per grit and reduced grinding forces
Low specific cutting energy — fast grinding with a low power draw and low burn
Norton Paradigm wheels are easier to dress compared to conventional grinding wheels. Truing and dressing can be completed in one rotary truing step because self-dressing occurs during truing — online and offline. The time between truing steps is increased up to two times compared to competitive products.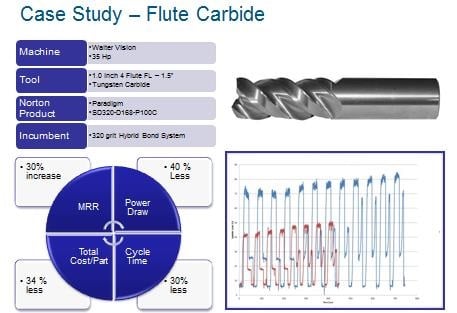 Figure 4. Paradigm rotary carbide tool case study demonstrating increased metal removal rate (MRR), lower power draw, reduced cost/part. Source: Norton AbrasivesQuality improvement is another benefit of Norton Paradigm wheels. Ground parts have higher tolerances, sharper edges, and finer surface finishes. Paradigm wheels' cool-cutting action results in low burn or metallurgical damage and low residual stress.
All of these factors can be combined to quantify the higher total cost benefit of Norton Paradigm super-abrasive wheels:
Total cost benefit:
Cycle time reduction (increased parts/hour)
Faster and less frequent dressing
Improved part quality (low Ra, sharper edges, improved tolerances)
Reduced scrap
Longer wheel life
Emerging Norton Paradigm Applications
The exceptional performance of Paradigm wheels in ultra-hard materials grinding is leading to additional applications in grinding aerospace, electrical, medical, process, mechanical component, and optical materials.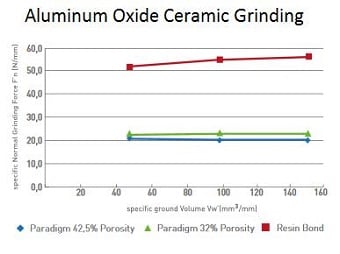 Figure 5. Paradigm ceramic grinding case study indicating 60% lower grinding force versus resin bond. Source: Norton | Saint-Gobain AbrasivesThe aerospace industry needs high-temperature-resistant materials such as ceramic matrix composites (CMC), titanium aluminides, metal matrix composites (MMC) and jet engine blade materials. Norton Paradigm wheels are showing good results in grinding these advanced aerospace materials. Many electrical and electronics parts are made from hard ceramic materials, which can be easily ground with Norton Paradigm wheels. Another emerging application is the grinding of polycrystalline cBN cutting tool inserts with Paradigm diamond super-abrasive wheels. Quartz, sapphire, silicon nitride, ruby lasing materials, technical glass, and other optical materials can be precision ground using Paradigm wheels.
Ceramic wear components and surfaces in mechanical, medical, and process industries also have emerging application. Norton Paradigm wheels are effective in grinding mechanical and process components such as sleeve bushings, bearing parts, impellers, wear surfaces, valve seats, and nozzles made from silicon nitride, silicon carbide, zirconia, SiAlON, tungsten carbide, and ceramic materials. The medical industry also needs reliable, high-quality ground ceramic wear parts for use in orthopedic joints, dental crowns, and other biomedical devices. High velocity oxyfuel (HVOF) thermal spray carbide and ceramic coating materials have been successfully ground using Paradigm wheels.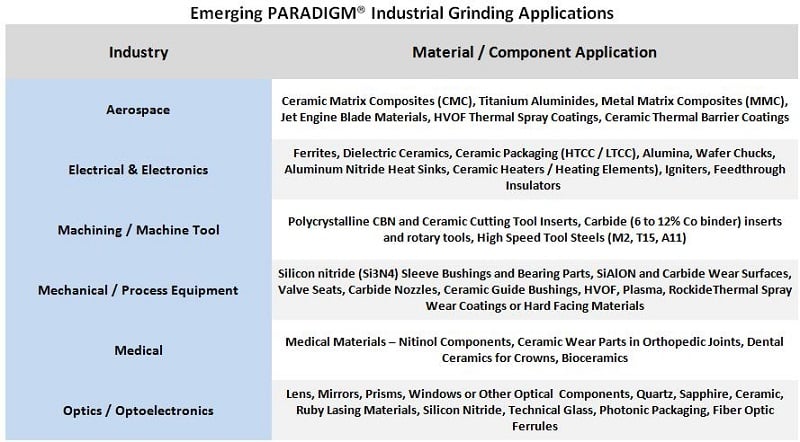 Figure 6. Emerging Norton Paradigm wheel industrial grinding applications.
While the Norton Paradigm bond has mainly been used for diamond-based super-abrasive wheels, Paradigm-bonded cBN wheels have shown promising results grinding wear-resistant and difficult-to-grind high-carbide content tool steels such as T15, M2, M4 or A11 grades. Paradigm-bonded cBN grinding wheels have also shown good results in grinding nickel-titanium alloys.
Norton Paradigm wheels' predictable performance is realizing the "lights out" automated factory. Minimal operator intervention is required due to the product's long wheel life, long cycle time between truing steps and rotary dressable nature. Paradigm wheels' self-sharpening ability allows one rotary truing-dressing step, another, detail that enables automation. The high feed rates of Paradigm wheels have the potential to displace machining processes, which further facilitates lights out manufacturing. Paradigm wheels allow manufacturing engineers to leverage the capability of advanced grinding machines tools.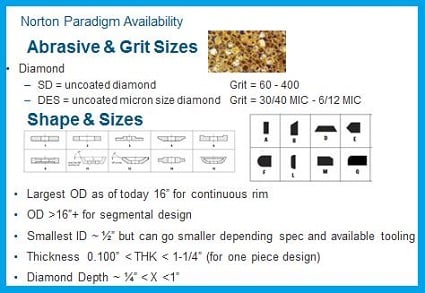 Figure 7. Availability range of Norton Paradigm super-abrasive wheels. Wheel specifications can be tailored to optimize performance for specific materials and grinding modes. Source: Norton |Saint-Gobain AbrasivesGrinding fluids often contain oil dispersions and used fluids require proper treatment and disposal. Norton Paradigm wheels are enabling new non-oil grinding fluids, which could ease waste fluid treatment requirements. The increased automation, elimination of processing steps and non-oil fluids make using Paradigm wheels a more environmentally friendly solution. "Wheels" s/b added to title at right
Engineering Norton Paradigm Wheels for Your Grinding Operations
Paradigm wheels can be tailored to provide the needed characteristics for specific applications.
While Paradigm wheels typically utilize 20-35 percent porosity, they can be engineered for special cases with as high as 46 percent porosity where competitive wheels would likely fail. Paradigm-bond metallurgy can be engineered from friable to ductile to enhance free cutting or form holding wheel characteristics.
Paradigm wheel parameters can vary in terms of abrasive grit size, wheel shape, wheel size, abrasive concentration and depth, and diamond abrasive types.
Proper grinding fluids, operating parameters, and truing-dressing tools can magnify the cost savings and quality benefits. Norton engineers can optimize grinding machine tool parameters to maximize grinding wheel output.
Contact a Norton | Saint-Gobain Abrasives product engineer today to discuss applications and to evaluate the Norton Paradigm diamond and cBN products engineered for a variety of grinding operations.