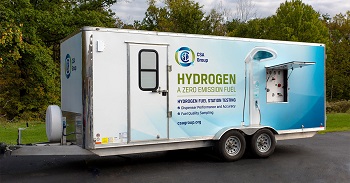 Source: CSA Group
CSA Group, an organization providing testing, inspection and certification services in Canada and the U.S., has developed on-site evaluation testing equipment for hydrogen fueling stations.
The new mobile hydrogen dispenser testing apparatus (HDTA) and weights and measures device (WAM-D) validates hydrogen dispenser performance in accordance with ANSI/CSA HGV 4.3 and verifies point-of-sale accuracy following NIST Handbook 44.
Hydrogen continues to gain traction as a transportation fuel, as evidenced by increasing commercial interest and automotive original equipment manufacturer development and production of hydrogen fuel cell electric vehicles. These trends also place emphasis on the development of hydrogen fueling infrastructure.
New fueling station projects frequently face delays in receiving regulatory approval from jurisdictions lacking familiarity with hydrogen technology. As a result, stations are subjected to greater scrutiny because onboard hydrogen must be stored under high pressure — up to 10,000 pounds per square inch. A station that has been independently verified to safely comply with the performance requirements specified in ANSI/CSA HGV 4.3 can ease the burden on regulators and result in smoother approvals.
With the availability of a mobile test device like the HDTA, station owners will no longer need to wait for each automotive OEM to bring a vehicle to their station for testing. The HDTA replaces the need for OEM vehicle testing at each station while reducing test time and associated costs.