MW-Scale Fuel Cell Power and Hydrogen Plant Planned for California Port
S. Himmelstein | November 30, 2017
Toyota has deployed fuel cell vehicles to service the Port of Long Beach, such as the Mirai sedan and Toyota's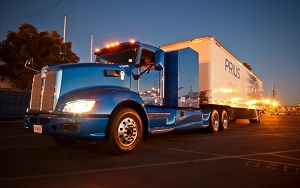 Toyota's "Project Portal" hydrogen semi truck. Source: Toyota Motor North America, Inc. heavy duty hydrogen fuel cell class 8 trucks. To support these refueling operations, the company has also built one of the largest hydrogen fueling stations in the world on-site with the help of Air Liquide.
Toyota Logistics Services' operations at the Port will soon be powered entirely by renewable energy. A megawatt-scale carbonate fuel cell power generation plant with a hydrogen fueling station is planned. Water, electricity and hydrogen will be produced in the agricultural waste-fueled Tri-Gen Facility.
When operational in 2020, Tri-Gen will generate 2.35 MW of electric power and 1.2 tons per day of hydrogen. This output can meet the power needs of about 2,350 homes and meet the daily driving needs of about 1,500 vehicles.
FuelCell Energy developed Tri-Gen technology with the support of the U.S. Department of Energy, the California Air Resources Board, South Coast Air Quality Management District, Orange County Sanitation District and the University of California at Irvine.