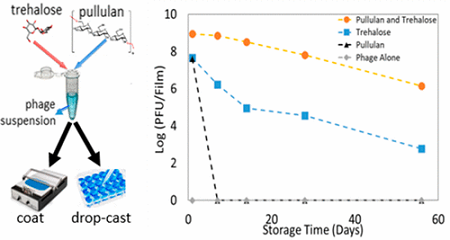 Incorporating both pullulan and trehalose in the film stabilizies the antibacterial phages. Source: American Chemical Society
Canadian researchers are enlisting the aid of viruses to help prevent bacterial contamination of food. Bacteriophages embedded into films or coatings function as antimicrobial materials that can be used as food packaging or to disinfect food preparation surfaces.
LISTEX P100 (a bacteriophage preparation), Salmonella CG4 and E. coli AG10 bacteriophages were incorporated into soluble "sugar glasses" or films made with pullulan, a polysaccharide used to prolong the shelf life of fruits and eggs; trehalose, a sugar used as a stabilizing agent in freeze drying; or a combination of the two substances. The mixtures were then drop-cast or coated onto butcher paper and allowed to air dry overnight at room temperature. Phages embedded in pullulan or trehalose alone lost their antibacterial effects within one or two weeks. Those embedded within the combined pullulan-trehalose mixture could still infect bacteria such as Lysteria monocytogenes up to three months later.
The pullulan-trehalose combination was observed to have a synergistic effect on bacteriophage stability and is a promising, simple method for protecting food from bacterial contamination. These phages are naturally found on fruits and vegetables and do not affect the odor, taste or appearance of foods.
Researchers from McMaster University, University of Guelph and Agriculture and Agri-Food Canada, all in Ontario, Canada, participated in this study.