Kentucky Gauge offers built-to-order drilling systems that are ideal for aluminum, steel and composites, tubular and flat bar materials. The KDP drilling systems have varying horsepower options and two-speed stroke control to provide a customized drilling solution to increase efficiency and produce high-quality parts.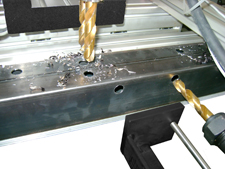 Multi-axis KDP Drill System; Source: Kentucky GaugeEach KDP drilling system features a heavy-duty rack and pinion drive. The carriage with hardened double ball bearings has a standard speed of 15 inches per second, with other speeds available upon request. The magnetic linear encoder provides repeatability of +/- 0.001 inch (+/- 0.03 millimeters) and accuracies of +/- 0.001 inch per foot (+/- 0.1 millimeter per meter). The spindle can be configured for speeds of up to 8000 revolutions per minute and drill thrust forces of up to 1000 pounds are possible.
Other key features include:
DC Servomotor with brake for secure positioning
LED controller, displays in 0.001 inch (LCD available for fractional)
No length limitations
Pneumatic material clamps
Two-speed stroke control with variable drill feed
Proximity sensors for end of stroke
Clean hole breakthrough
Optional features include adjustable skip speed and rapid advance through material voids (tubing), multiple spindle heads, multiple axis drilling, and onsite installation and training by a factory technician.
Each KDP drilling solution is customized to fit your application. For additional information, visit the Kentucky Guage website.