Algorithm Helps Identify Bodies Found Decades Ago
Marie Donlon | November 01, 2017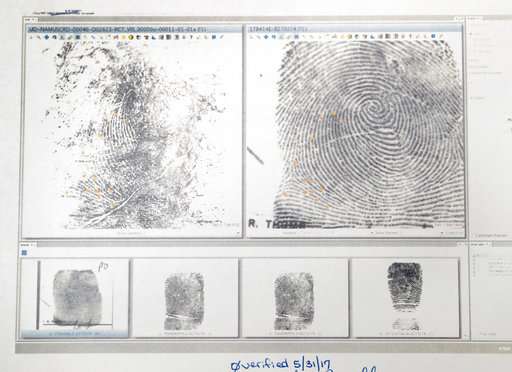 The fingerprint taken from a severely decomposed body, found in February of 1984, at left, was matched to a print on file, right, when the FBI began using new technology to resolve identity cases dating back to the 1970s. Since launching the new effort in February, the FBI and local medical examiner offices have identified over 200 bodies found between 1975 and the late 1990s. Source: Polk County Medical Examiner's Office via AP Thanks to new fingerprinting technology, the FBI and medical examiner offices throughout the country have been able to identify over 200 bodies found between the mid-1970s and late 1990s.
Using the technology since February, a team of FBI agents have run the fingerprints from roughly 1,500 bodies through a new computer algorithm. Algorithms used in the past required the prints of all ten fingers to make an accurate match. However, the new algorithm can make a match using just the print from a single finger or thumb and even from low-quality prints.
"We didn't know the actual potential success. We were hoping to identify a few cases, maybe five or 10," said Bryan Johnson, a manager in the FBI's Latent Fingerprint Support Unit who proposed the effort. "We're really proud that we found another way of doing this."
The FBI is encouraging law enforcement officials across the country to sift through their old case files to locate and send in old fingerprints that couldn't be matched in the years before the new algorithm was available.
"This matters tremendously," said Aden Naka, assistant director for forensics investigation in New York City. "Everyone deserves a name."