Generators Begin to Stabilize Portion of Puerto Rico Grid
David Wagman | October 31, 2017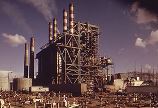 1973 view of Palo Seco power plant. Source: Wikipedia
Two generators, part of a $35.1 million contract by the U.S. Army Corps of Engineers, began providing up to a combined 50 megawatts (MW) of electricity on October 30 to the Palo Seco power plant near San Juan, Puerto Rico.
Palo Seco is fired by heavy fuel oil and has a generating capacity of 602 MW.
The generators are intended to help stabilize the power grid in the San Juan area and reduce outages affecting those currently receiving power.
USACE operations at Palo Seco station. Source: USACEThe generators provide around 30 MW to the Puerto Rico electrical grid with the ability to provide up to 50 MW depending on demand.
The contract for additional generation at Palo Seco was the first of a series of major contracts awarded by the Army Corps of Engineers, and went to Weston Solutions, based in West Chester, Pennsylvania. Weston is an employee-owned environmental management company serving federal, state and local government and commercial and industrial clients.