Solar Decathlon Tests Creative College Teams
David Wagman | October 09, 2017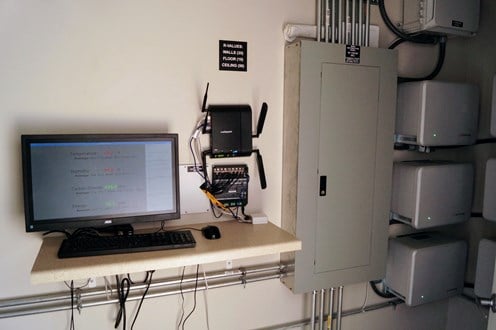 Systems management center in Missouri S&T house.
Visitors got a look at what could be the future of highly efficient, sustainable, and livable house design as the 2017 Solar Decathlon opened its doors not far from Denver's international airport.
The decathlon is a collegiate competition of 10 contests that challenge student teams to design and build full-scale, energy-efficient, solar-powered houses.
The winner is the team that best blends design excellence and smart energy production with innovation, market potential and water and energy efficiency.
Teams are eligible for cash prizes up to $300,000. Each contest is worth a maximum of 100 points for a competition total of 1,000 points.
This year's teams are from the Missouri University of Science and Technology, the University of California at Davis, the University of Maryland, the University of California at Berkeley and the University of Denver, HU University of Applied Science from the Netherlands, a trio of schools from Switzerland, Northwestern University, Washington University, the University of Alabama at Birmingham and Calhoun Community College, the University of Nevada at Las Vegas, Embry-Riddle Aeronautical University, Daytona State College from Florida and Washington State University.
(Follow the scores and standings for all teams.)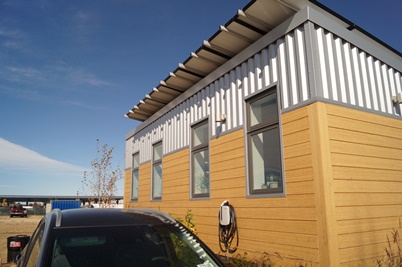 Solar panels, EV charging station and electric vehicle at University of Maryland house.The 10 contests for Solar Decathlon 2017 include:
Architecture (juried): A jury of architects evaluates each team's concept and design approach, the implementation of the design and its innovative features, and required documentation.
Market potential (juried): Teams design a primary residence for year-round occupancy for a specific target client. Professionals from the homebuilding industry evaluate the overall attractiveness of each team's design to its selected target client and the house's market impact potential.
Engineering (juried): A jury of engineers evaluates the design and implementation of each team's house based on the engineering approach, design, efficiency and performance.
Communications (juried): Communications professionals evaluate each team's strategies, materials and efforts to inform, educate and interest the team's local communities, visiting public at the event and online audiences.
Innovation (juried): New for 2017, a jury evaluates each team's research, approach to sustainability, innovations for the target client and durability and safety of the innovative elements, while also evaluating whether the price is right for the target client.
Water (juried): Smart water solutions are being rewarded for the first time in 2017. A jury evaluates each team's approach to water conservation, water use and reclamation, and landscaping water impacts.
Health and comfort (measured): Team houses must minimize the flow of conditioned air to the outdoors, and they must operate heating and cooling systems that keep temperature and humidity steady, all while maintaining healthy indoor air quality.
Appliances (measured): This concept is designed to mimic the appliance use of an average U.S. home. Teams earn points for operating their refrigerator and freezer, washing and drying laundry, and simulating cooking tasks and hot showers.
Home life (measured): Teams are required to engage in common household activities that use electricity. They also "commute" for at least 25 miles in an electric vehicle charged by the house solar electric system.
Energy (measured): This contest evaluates each team's energy production and a theoretical value to a utility of the energy each team contributes to and takes from the Solar Decathlon electricity grid. For the first time, the contest includes real-time energy pricing.
The health and comfort category may get a workout thanks to Colorado's fast-changing autumn weather. Blue skies and temperatures around 80 degrees Fahrenheit on Oct. 7 were swept aside by snow, overcast skies and temperatures at 32 degrees Fahrenheit two days later.