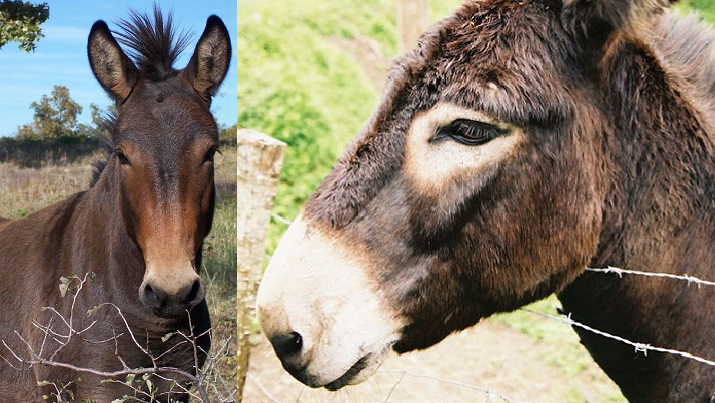 Mule on the left; donkey on the right. Image credits: Wikimedia Commons/Sogospelman, Greudin.Can a computer tell the difference between a donkey and a mule? (For that matter, can you?)
As part of the 2017 conference on Computer Vision and Pattern Recognition (CVPR), Caltech and Cornell University's engineering campus, Cornell Tech, teamed up to create the iNaturalist Challenge. An outgrowth of the institutions' previous work together on the visual encyclopedia Visipedia, iNat was a competition to create the best machine-learning algorithm for visual species identification.
From April to July, competitors were given access to a database of 650,000 images of more than 5,000 species spanning everything from protozoans to mammals. By the time the competition closed, 32 entries comprising teams and individuals had been received.
When allowed one guess per photo, the winning algorithm was able to correctly identify species in a 100,000-image test database 80 percent of the time. When allowed five guesses, its success rate rose to 95 percent.
"That's way better than almost every person would do on a test like this," says Grant Van Horn, one of the Caltech researchers. "It's 5,000 species, so it's pretty hard to be an expert on all of them. This is where we're seeing the true benefit of computer vision."
Van Horn's colleague, Oisin Mac Aodha, notes that the algorithms developed for the contest use traditional neural network technology. He hopes future contests will prompt new developments in the machine-learning field. "From the competition results we can see that computers perform very well when they have access to many photographs of a given species," he says. "However, to truly reach expert human ability, we need to design algorithms that are capable of understanding new species from only a small number of images."
Support for the contest came from the iNaturalist website, which allows users to submit photos of plants and animals to be identified by a community of citizen scientists. Funding was provided by Google.