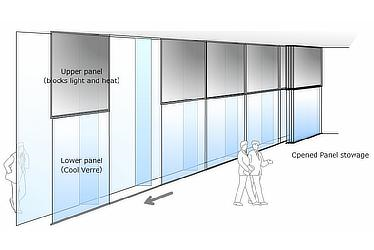 Ceiling-mounted double skin system. Source: Toyota Motor Corporation
A new glass structure, the ceiling-mounted double skin system, is under development as an energy-saving solution for car dealership showrooms and office buildings.
The large glass surfaces in these facilities pose challenges for reducing summertime air conditioning load. Roll-screen curtains and other remedies available for this purpose have their limitations, including insufficient ability to block sunlight and reduction in visibility.
Toyota Motor Corporation engineers developed an "opening-closing type basic double skin" for dealership showrooms, and a "dispersion type double skin" for small- to medium-sized offices. The company entered a joint venture for commercializing the environmentally friendly double-skin products with Asahi Glass, which has experience in energy-saving replacement glass products.
The glass is highly effective in reducing air conditioning load, as it is based on Asahi's Coolverre™, an automotive glass designed for use in car windshields. An infrared (IR) blocking agent is infused into the interlayer, enabling the laminated glass to block over 90% of IR rays and 99% of ultraviolet rays. A fan blows hot air between the external glass and product to boost air conditioner efficiency.
Thin sheet glass used in the lower panel contributes to a significant weight reduction and ensures good visibility. The design facilitates flexible opening and closing, and the panels can be stored away like a curtain on days in which they are not needed.
After finalizing product specifications and safety and performance testing, the companies plan to launch sales of the product in the spring of 2018.