Enhancing Chemical Process Heating Efficiency
October 05, 2017
Sponsored Content
Sponsored content
Chemical manufacturing processes pose unique challenges to process engineers. Precise temperature control is paramount, but as pilot runs and lab scale operations are scaled up to production capacity design, engineers are in need of an efficient and dependable heating solution that provides precise control of fluid temperature.
Driving Efficiency with Direct Heating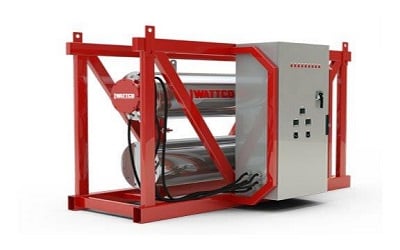 Figure 1: Immersion heater. Source: WattcoWith indirect heating only a fraction of the heat supplied by the process heater is delivered to the material. Heat is transferred from another source to the material through convention, radiation, conduction or a combination of these heat transfer methods. The fluid medium remains isolated from the heat source, while the inefficiency of indirect heating generates what is referred to as waste heat.
Waste heat is thermal energy that escapes the system before being delivered to the process fluid. Thermal fluids dissipate heat, flue gases exhaust residual heat and inefficient heat transfer mechanisms all contribute to waste heat. While heat and energy recovery systems are used to recycle waste heat back into the system, the overall efficiency is less than that of direct heating.
Direct Heating
Direct heating is the generation of heat within the fluid medium. There are no thermal fluids or intermediate heat transfer devices, virtually eliminating waste heat. The use of direct immersion heaters not only improves process efficiency, but also alleviates the need for ancillary heat recovery systems. They play a pivotal role in curbing energy demands as chemical manufacturers ramp-up production capacity.
Immersion Heaters
Direct source immersion heaters are insulated to ensure uniform heat transfer and are then encapsulated by a protective sheath that is compatible with the fluid medium. The tubular element is typically bundled and welded to either an NPT-threaded fitting or an ANSI flange. This allows for direct immersion of the heating element in the fluid medium.
Immersion heaters from Wattco™ are engineered to address a wide range of fluid viscosities, specific heat, flash temperature and corrosive media. They are available in a range of watt densities and materials of construction. This makes them suitable for a variety of applications in the chemical process industry with several device configurations that are each suited for particular applications. Types of immersion heaters include:
Flanged and screw plug heaters
Over-the-side heaters
Circulation/inline heaters
Flanged and screw plug heaters are best suited for tank heating applications. They can be installed in pressurized vessels and incorporate thermowells for installation of thermocouples, resistive temperature devices and other sensors for advanced temperature control applications. They are used for a variety of tank preheating and process heating applications Possible drawbacks include corrosion of the heaters sheath and contamination build-up, which can result in lost revenue when manufacturers are forced to drain tanks for maintenance of heater elements.
Over-the side heaters are both economical and practical for small tank heating applications. They are available in the same watt densities and materials of construction as flanged and screw plug heaters. They are versatile and can be easily installed in standard as well as non-standard process tanks. They can also be removed from the system without draining process fluids, but cannot be used inside a pressurized vessel and are insufficient for heating larger tanks.
Circulation heaters incorporate flanged immersion heaters within an insulated vessel and are considered the most efficient means of reaching target temperature. Their ability to control temperature and regulate substance viscosity is unmatched as process fluids are in direct contact with the heating element. Circulation of process fluids in a closed-loop system also further improves fluid viscosity as it is in constant motion.
Circulation Heaters (Light Oil Application) with Densities 20–30 wpsi
Wattco™ circulation heaters for light oil applications are available in low- to mid-watt densities. The reduced watt density aids to resist corrosion when working with mildly corrosive solutions, while its compact foot print facilitates system integration and serviceability.
They are widely used in the chemical industry for process heating of mildly acidic and caustic aqueous solutions, glycol mixtures and mineral oil baths, as well as waste oil removal. They provide precise control of fluid temperature while optional drain valves expedite system maintenance by making it easier to remove leftover fluid or residue.
They are available in skid-mounted packages that are available in either horizontal or vertical configurations to facilitate system integration. They are also available with moisture resistant terminal boxes or explosion-proof terminal boxes for hazardous environments.
However, Wattco's range of circulation heat is not limited to light oil applications. Like all of their immersion heaters, they are offered with the following heater specifications:

Figure 2: Wattco inline heater specifications. Source: Wattco
Addressing Challenging Environments
To address challenging environments Wattco offers their circulation heaters with exotic sheaths, including Incoloy®, Inconel®, Hastelloy® and titanium. They also offer extra-heavy wall sheaths with thicknesses ranging from 0.035 to 0.065 in., as well as passivated and wetted surfaces for highly corrosive solutions such as hydrofluoric acid.
Built-in safety limits and thermostats allow operators to safely and predictably reach target temperatures as high as 1,000° F. Wattco circulation heaters are an exceptional choice for heating process fluids that are non-corrosive to the materials of construction.
Wattco manufactures a complete line of flange heaters, circulation heaters, tubular heaters and immersion heating elements for a wide variety of chemical applications. To learn more about their products and custom solutions, contact a Wattco representative today.