Could smart guns help reduce gun violence? New York Times columnist Nicolas Kristoff lists smart gun technology as one of eight actions that, at least in his opinion, would reduce the incidence of gun fatalities in the United States. Horrific mass shootings like the one in Las Vegas always bring the public's focus to gun violence;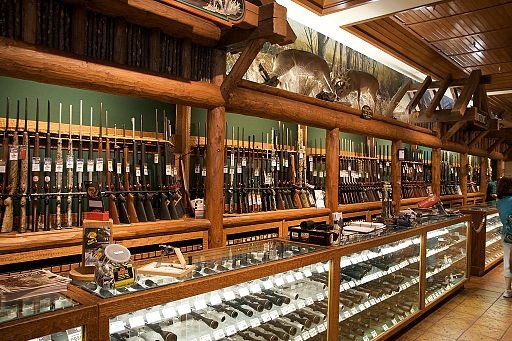 Supermarket with Guns. Photo credit: Marcin Wichary/CC BY 2.0 via Wikimedia Commonshowever, every day 92 Americans die from gunshots, as victims, suicides or by accident.
Various types of smart guns have been around for at least five years. How could such a weapon prevent a potential shooter from becoming an actual shooter? One approach is to ensure that only the person or persons who are authorized to shoot a particular gun can fire it. Different inventors use different technologies for user authentication, usually based on biometrics, like a fingerprint, or an RFID device that unlocks when in proximity to the proper reader. Some devices can be retrofitted to existing firearms without having a negative impact on gun operation.
Another ingenious technology is a location-aware gun magazine. The gun picks up a satellite signal that will jam the gun if the gunman is in a school or a government building. Other incarnations of this kind of weapon, called a locationized gun, started appearing as early as 1984.
A side benefit of locked firearms concerns stolen guns. Somewhere between 300,000 and 600,000 privately-owned guns are reported stolen every year in the United States. A report cited by the Guardian says that this is, "enough to provide a weapon for every instance of gun violence—several times over." About 80 percent of stolen pistols, rifles, shotguns and other types of guns are never recovered; the same report pointed out that thieves break into vehicles specifically to steal a firearm. However, a gun locked via fingerprint is of no use to anyone other than the rightful owner. If the bad guy gets hold of a gun during a struggle, the owner will not get shot by his or her own firearm.
Smart gun proponents also cite child safety as a benefit. When children get their hands on loaded guns, tragedy often ensues. A gun that only works for the proper owner would prevent such a tragedy.
Are any of these solutions generally available commercially in the United States? Well, no, not really; the market is very small and not welcoming. Why?
Lauren C. Williams writes in ThinkProgress, "The answer: politics." She highlights boycotts of gun manufacturers who developed government-sponsored smart prototypes and also of "gun dealers who have expressed interest in selling smart guns alongside traditional firearms."
In 2014, a Maryland gun shop owner received death threats after announcing his intention to stock smart guns. The explanation? Supposedly, gun owners feared that soon only smart guns would be available. Other opponents point to the deficiencies in smart gun technology. For example, Wired was able to unlock a gun from Armatix, a German smart gun manufacturer, using magnets. (A more recent model apparently works as designed).
In a recently published article, a Penn State researcher pointed out that gun owners and other pro-gun people were less likely to buy smart guns. A 2015 survey disclosed that only three percent of Americans owned 50 percent of privately-held guns. This suggests the main consumer group that smart gun manufacturers are targeting are not interested in the product.
The applications of biometric, sensor and GPS technologies used in smart guns are clever and interesting in themselves. Clearly, though, the technologies need to be reliable before they will have broader appeal to gun buyers. Will conventional firearms owners be willing to swap their guns for the smart alternative? Time will tell.