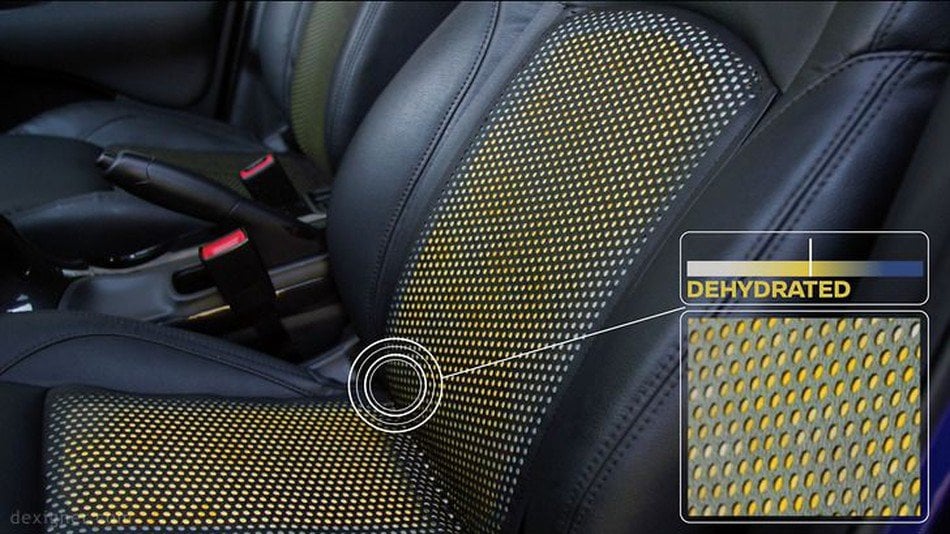 SOAK technology. Source: NissanRecently warning consumers of the dangers associated with driving while dehydrated, Nissan demonstrated a new sweat sensing technology in one of its automobiles.
Applying a coating called SOAK to the steering wheel and front seats of a Nissan Juke, Nissan was able to demonstrate how the coatings change color in response to exposure to a driver's perspiration. The technology is meant as a warning system, changing the coating color to yellow to indicate a dehydrated driver and blue to signal that the driver is hydrated.
Although little research has been conducted on the dangers of driving while dehydrated, Nissan released a video recently to highlight some concerns, including the dizziness, fatigue and slow reaction times of the dehydrated driver.
Likening the dehydrated driver to a drunk driver, Nissan referenced a 2015 study from the European Hydration Institute: "Drivers who had consumed only a sip of water (25ml) per hour made more than double the number of mistakes on the road than those who were properly hydrated. The number of errors was equivalent to those displayed by people with a blood alcohol content of 0.08% — the current UK drink-drive limit."
Though meant to highlight the dangers associated with dehydration and driving, Nissan has no current plans to add the fabric to its line of vehicles.
Digital Trends said "the Nissan Juke Soak is a reminder that drivers need to do their part to keep the roads safe. A driver must be calm, alert, and awake at all times."