Self-Driving Trucks to Be Used in Florida Road Work Zones
Engineering360 News Desk | August 27, 2015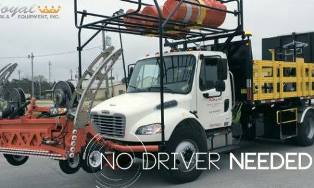 Self-driving trucks for use for motorway structure in Florida. Credit: Royal Truck & Equipment Specialized trucks used at construction sites will be among the first autonomous vehicles to reach U.S. highways this year, according to truck makers Royal truck & Equipment. The truck is being developed in partnership with technology firm Micro Systems, which supplies unmanned vehicles to the military.
These vehicles, fitted with special rear-end crash barriers and lights, will be used in Florida. The trucks use GPS waypoints and follow a lead car, mimicking its path, braking and speed. The trucks are also fitted with signs to warn other drivers of the presence of workers. The crash trucks are used to protect construction crews resurfacing roads, painting lines, inspecting bridges or installing traffic signals.
"Any time a driver can be removed from these vehicles in a very dangerous situation, and if the vehicle's struck, there's nobody inside of it to receive the damage or the injuries, that's measuring success," says Robert Roy, president of Royal Truck & Equipment.
News articles:
Electrifying Aviation from the Ground Up
Dutch Approve Self-driving Car Tests
3D-Printed Autonomous Vehicle Rolls onto Campus