A new report by the Canada Green Building Council (CaGBC) offers a roadmap for cutting greenhouse gas emissions from large buildings.
The report, A Roadmap for Retrofits in Canada, provides recommendations to retrofit large buildings that will contribute to reducing GHG emissions by at least 30 percent (or 12.5 million tons) by 2030.
The report advances recommendations made in CaGBC's 2016 Building Solutions to Climate Change research by analyzing how the type, size and age of large buildings, along with energy sources and the carbon intensity of regional electrical grids in Canada, can affect energy efficiency and carbon emissions.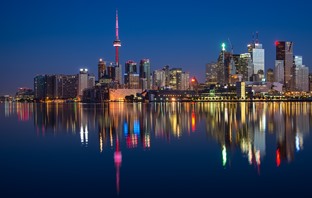 The Toronto skyline from Lake Ontario.The report identifies the buildings with the largest carbon reduction potential and recommends provincially specific retrofit pathways that include a combination of recommissioning, deep retrofits, renewable energy and fuel switching actions.
Among its findings:
Achieving a 30 percent (or potentially 51 percent) building emissions reduction by 2030 is achievable by focusing on a targeted number of buildings that have the greatest potential to reduce carbon.
Buildings including office buildings, shopping malls, universities and arenas constructed between 1960 and 1979 across all provinces represent the age class with the largest opportunity for total carbon emissions reductions.
Alberta and Ontario currently emit the most carbon and therefore have the greatest potential for reducing emissions. This is due to the carbon intensity of Alberta's electricity grid and the number of large buildings in Ontario.
All provinces will need to prioritize recommissioning for large buildings (between 25,000 and 200,000 square feet) and deep retrofits for older buildings (over 35 years old) in order to meet the target. These two actions will reduce emissions by a collective total of 4.1 metric tons of carbon dioxide equivalent (CO2e), providing 62 percent of the reduction activity needed.
Fuel switching must be completed in 20 percent of buildings over 35 years of age across Canada. Currently, fuel switching is particularly attractive in provinces with clean electricity grids, such as British Columbia, Manitoba, Quebec, New Brunswick and Newfoundland. In these regions, the report says that effort should be put into increasing the adoption of highly efficient heat pump technology. This will reduce emissions by 1.6 metric tons of CO2e, or 25 percent of the reduction activity needed.
In provinces with carbon intense electricity grids, specifically Alberta, Saskatchewan, New Brunswick and Nova Scotia, 30 percent of buildings will need to use renewable energy in order to meet the target. This will reduce emissions by 0.9 metric tons of CO2e, representing 13 percent of the reduction activity needed.
The report provides the following policy recommendations for the Federal Government: include a greenhouse gas metric in Canada's future retrofit building code; develop regional retrofit roadmaps; prioritize investments in scalable retrofit projects; and support mandatory energy benchmarking.