Air quality affects humans and other animals. Complex atmospheric modeling tools gauge air quality, but these tools are so complex that only a few specialized government and university laboratories can run them and analyze the results.
Carnegie Mellon's Professor Peter Adams and his team run one of these chemical transport models (CTM).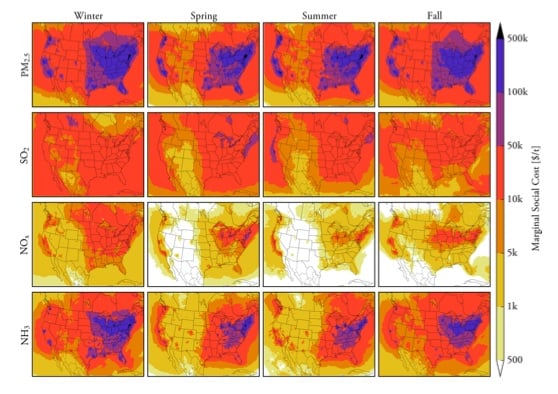 Map of the marginal social costs for ground-level emissions of various pollutants, highlighting the downwind public health costs imposed by those emissions. Credit: Carnegie Mellon University/Dept. of Civil and Environmental Engineering It requires intensive work to gather and prepare data inputs and then analyze the calculations the program produces. The U.S. EPA uses such a model to identify air quality problems. When the EPA informs a state government of problems, the state needs to be able to measure and report compliance. States lack the EPA's modeling capabilities but Adams believes that simpler modeling techniques can provide the necessary information, and he is on a mission to provide exactly that.
"This is the gap we're trying to address," says Adams, a professor of civil and environmental engineering and engineering and public policy.
"We've built what we call a Reduced Complexity Model that gives essentially the same answer, and it requires no expertise to run. In some cases, it's as simple as multiplying two numbers. Just tell me where and how much you're increasing the emissions of a certain pollutant, and you can basically look up in a table how that will affect human health."
The tool Adams' lab has developed is much easier to use, as its acronym suggests: EASIUR, for estimating air-pollution social impact using regression. The lab's extensive models take into account atmospheric conditions, population and other variables, broken into 36-kilometer grids. A local user consults tables based on the correct local model to ask specific questions about a given pollutant's health effects, both at the point of emission and downwind.
Adams uses the example of older, fuel-inefficient city buses to explain a typical EASIUR application. By measuring pollutants in the exhaust from the old bus, the local transport authority can compare these measurements to those expected from a new model and justify the replacement cost.
Results of this research are published in the journal Atmospheric Research.