USA Fastener Group: A One-Stop Fastener Shop
September 15, 2017
Sponsored Content
Sponsored content
USA Fastener Group, Inc. (USAFG) is known as a premier manufacturer of fasteners with industry-leading certifications. Less known, perhaps, is the company's complementary role as a supplier of parts and materials. This can come into play as an excellent strategy for avoiding the hidden costs frequently associated with the use of multiple vendors.
This is well illustrated by the stories of some of USA Fastener's customers.
For instance, a customer in the industrial space had been doing business with USAFG for many years, regularly buying two specific parts for an eight-part assembly. One day one of USAFG's reps visited the operation and was struck to learn that the customer was actually sourcing those eight parts from four different vendors. On the advice of the rep, the customer decided to give USAFG a try as a "one-stop" supplier—leading to savings of both time and money. In addition to getting a better price on the parts, the customer was able to avoid the hassle of cutting a purchase order for several companies, coordinating multiple delivery windows and so on.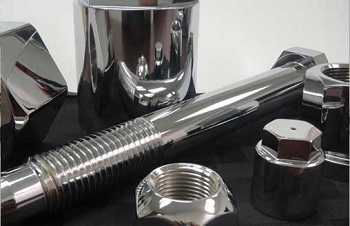 Another customer, a maker of ball valves for use in severe applications, had been using USAFG stock items. Faced with the need to engineer new parts, the company turned to USAFG for a quote on base materials—in this case, a nickel-stainless steel alloy appropriate for the corrosion resistance needed. By bringing in USAFG at the beginning, the customer was able to streamline its manufacturing process and reduce the number of vendors used.
Working directly to serve the needs of its customers, USAFG specializes in the production of small-volume, quick-turnaround parts that conform to customer specs. Available parts include a wide variety of nuts, bolts and studs. USAFG also has an on-site hot forging department that can cost-effectively produce fasteners of unusual sizes. When necessary, parts can also be sourced from another company owned by USAFG's parent, MW Industries—a world leader in the manufacture of industrial springs, fasteners and metal components. And the company's relationship with local suppliers translates to a wide selection of available part coatings and platings.
As for materials, USAFG stocks a wide selection—including alloy, carbon and stainless steel; copper and nickel alloys; and exotics such as titanium and zirconium. Additional materials are available upon request.
USA Fastener Group, Inc. is clearly much more than a leading fastener manufacturer. Dedicated to providing quality parts and materials for a variety of industries, USAFG is truly a "one-stop shop" that can address just about any customer need. To learn more, visit http://www.usafgrp.com/