Sponsored content
Modern cars contain more than 130 motors to control everything from HVAC systems, coolant and refrigerant valves, headlights and seat adjustments to grille shutters, vehicle security and trunks. Most automotive actuators are comprised of an electric motor and gearbox assembly packaged in a housing. They take an electrical signal and convert it into rotary or linear motion, resulting in a physical change to a component on the vehicle.
Smart actuators are a relatively new innovation in the automotive industry. They combine actuators with local drive electronics and internal or external sensors to make dynamic adjustments to automobile systems, reducing weight and drag and increasing efficiency. Smart actuators are capable of performing diagnostics and include learning capabilities and memory functions.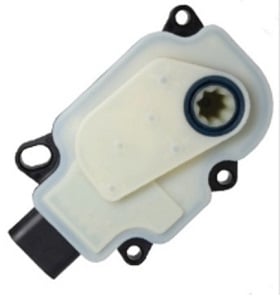 PA241X actuator. (Source: NMB Technologies Corporation)The worldwide harmonized light vehicle test cycle (WLTC) and worldwide light vehicle test procedures (WLTPs) will be introduced in September 2017 and will apply to all cars by September 2018. The WLTC and WLTPs replace the New European Driving Cycle (NEDC) and define a globally harmonized standard for measuring pollutant levels, CO2 emissions and fuel consumption for light-duty vehicles. They close the gap between test stand emission and field emission, and cover higher driving speeds as well as special features and tires. The European Union (EU) has set goals of 95 gCO2/km for 95 percent of all new cars by 2020, and for 100 percent of all new cars by 2021.
OEMs within the EU gain super credits if they reduce CO2 emissions; these credits allow manufacturers to consider ultra-low carbon vehicles (ULCVs) as more than one vehicle, thereby artificially lowering their emission average. In 2012-2013, each ULCV was counted as 3.5 vehicles. This was lowered to 2.5 in 2014, 1.5 in 2015 and 1 in 2016-2019. Super credits also apply to the second stage of emission reductions to .35 g/km in 2020-2022. Each low-emitting car in this time period will be counted as 2 vehicles in 2020, 1.67 in 2021, 1.33 in 2022 and 1 in 2023.
Aerodynamic features are a cost-effective way to reduce CO2 emissions. A car's aerodynamics (Cw value) avoid lift-up from under the car, reduce drag and contribute to the total energy cycle of the car by as much as 42.2 percent for city cars. There is a trend visible of automakers incorporating these features into the designs of cars. However, there are many areas where this isn't possible. These cases present opportunities for the implementation of active aerodynamic solutions.
Self-adjusting front or rear spoilers and grille shutters—which automatically open when engine compartment temperatures rise and close when they drop—are examples of active aerodynamics. Active aerodynamics help to lower a car's drag coefficient without compromising performance or safety.
In experiments conducted by Audi in 2016, the drag coefficient of an Audi A4 improved from 0.26 to 0.231 Cw by optimizing the fascia and mirrors using speed lips as well as optimizing the underbody. These tests showed that underbody optimization is an important and often overlooked area. Of the 0.031 Cw reduction, 69 percent was attributed to underbody optimization. Applying active aerodynamic features to the underbody opens up many possibilities for improving efficiency. For example, the forward side of the front tires is a source of great turbulence. Placing an active speed lip in front of the tire to reduce turbulence is an opportunity for active aerodynamics. Additional underbody active aerodynamic possibilities include active air dams and an active air diffuser. Placed at the location where air from the underbody and over-body come together, the active air diffuser steers air flow dependent on the car's speed.
NMB Technologies Corporation is part of the MinebeaMitsumi group of companies, a world leader in the design and manufacture of electro-mechanical components. MinebeaMitsumi leveraged their PMDM GmbH division's expertise in brushless DC (BLDC) motors to develop the PA241x and PA242x BLDC active grille actuator (AGA) series and the stepper-driven HAL actuator for HVAC applications.
To read more, visit http://www.globalspec.com/NMBTechnologies/Ref/NMB_Technologies_Smart_Actuators_Engineering_Brief.pdf.