A team of researchers from the Technical University of Denmark (DTU) has designed a chip prototype that can detect the presence of narcotics, explosives and money.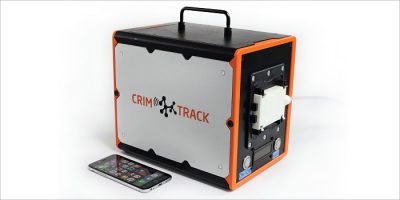 Source: DTU
Although the task has traditionally relied upon dogs and their ability to track both objects and people, the researchers believe that the device would offer more reliability as dogs are not always 100 percent accurate.
Consequently, researchers designed the chip to detect the molecular structures in a variety of substances. Called the CRIM-TRACK Sniffer System, the chip is paired with a camera that can visualize what the chip detects using software that determines color changes between two pictures. Those color differences are caused by the presence of particular scents in the environment.
"We have conducted experiments by sucking air from smaller containers like e.g. handbags or pieces of luggage and from large industrial sized containers typically used for smuggling. In both cases, we arrived at promising results," says Mogens Havsteen Jakobsen, Senior Researcher at DTU Nanotech.
In addition to detecting explosives, narcotics and money, the device can also sense rotten meat and fish, wine and coffee quality, and the ripeness of cheese.
With a specific emphasis on explosives, the researchers worked in conjunction with the Chemical Division of the Danish Emergency Management Agency because of their experience with both producing and handling explosives.
"We have test laboratories which have been made available during the course of the project," says Jesper Mogensen, civil engineer and analysis chemist at the Chemical Division.
"There will be some evident advantages in using a technology such as CRIM-TRACK, compared to the instruments available today," Jesper Mogensen says. "Firstly, the preparation time is short in that what you largely need to do is switch on the tracker and use it. This is valuable time saved. Secondly and perhaps the most important advantage is the fact that the EOD (the Explosive Ordnance Disposal) does not need to collect a sample. Today when we are called to a ransacking if e.g. a kilo of white powder has been found and we have to analyse its chemistry by way of GC-MS (i.e. gas chromatography-mass spectrometry), a sample of the substance must be collected on a fibre. In other words, it is necessary to collect physically a sample with all the risks this entails. With DTU's sniffer system, it is possible to collect samples in the air. It sniffs for the drug much like a dog and indicates whether there are any explosives or not. This will increase the safety of our EOD."
As they work to perfect the device, researchers expect to see it employed at locations such as airport baggage carousels in the years to come.