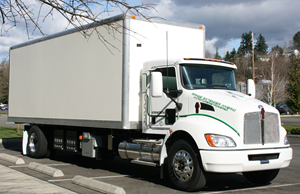 A Capstone C65 microturbine provides extended range by charging a 47-kWh lithium-ion battery pack onboard. Source: Capstone Turbine CorporationA Kenworth Class 7 hybrid electric work truck has been successfully track-tested with a 65-kilowatt microturbine developed by Capstone Turbine Corporation (Chatsworth, Calif.) as an onboard range extender. The tests demonstrated high-speed performance as well as operation on 20 percent grades.
Capstone's joint development program with Kenworth Truck Company is designed to showcase fuel economy benefits and reduced greenhouse gas emissions of a microturbine-powered delivery or work vehicle. The Capstone C65 onboard microturbine operates on compressed natural gas and functions as a range extender to charge a 47-kilowatt-hour lithium-ion battery pack, which in turn provides power to the electric traction motors that propel the truck.
The truck is equipped with a refrigerated box body that uses electric power to provide payload cooling while on the road. This design eliminates the need to operate a separate diesel engine generator set with its associated fuel consumption and additional emissions. While sized for urban delivery cycles, the drivetrain is capable of achieving significant highway speeds.
Simulations were developed by Capstone to compare a microturbine-powered hybrid electric vehicle's fuel economy and emissions of nitrogen oxides and carbon dioxide to a conventional diesel-powered truck drivetrain operating on city and rural delivery cycles. Analyses of low-mileage urban delivery routes indicate diesel equivalent truck miles-per-gallon could be as much as three times higher for the microturbine hybrid. A corresponding reduction in greenhouse gas and NOx emissions of 65 and 90 percent, respectively, is also indicated.
The company plans to begin customer demonstration testing and to conduct additional drive cycle testing to confirm predicted performance.