Daimler Launches World's First Line of All-Electric, Light-duty Trucks
Peter Brown | September 14, 2017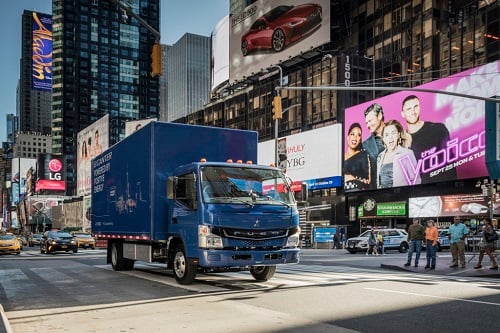 One of the new FUSO eCanter all-electric trucks. Source: Daimler TrucksDaimler Trucks has launched what it claims is the world's first series of all-electric light-duty trucks that will be delivered to customers starting this year in the U.S., Europe and Japan.
Daimler plans to deliver 500 electric trucks in the next two years with a larger scale production planned for 2019. The zero-emission trucks will provide an alternative to combustion engines as companies look to meet and exceed emission standards that are coming.
The FUSO eCanter trucks will be used by the delivery company UPS as part of that company's move toward transitioning to a more sustainable fleet of vehicles.
"At UPS, we constantly evaluate and deploy advanced technologies that enable sustainable, innovative solutions for our fleet," said Carlton Rose, president of global fleet maintenance and engineering at UPS. "Electric trucks make our fleet both cleaner and quieter, adding to our already more than 8,500 alternative drivetrain vehicles in service today. We have a long-standing global relationship with Daimler, and we welcome the opportunity to trial the Fuso eCanter as UPS continues to realize the benefits of electric trucks."
Daimler will also supply a fleet of local zero-emission eCanter trucks to New York-based not-for-profits including Wildlife Conservation Society, New York Botanical Garden, Habitat for Humanity New York City and Big Reuse Brooklyn.
The FUSO eCanter truck has a range of 100 kilometers and a load capacity up to three and a half tons. The truck's powertrain contains six high voltage lithium ion battery packs with 420 V and 13.8 kWh each. Compared to conventional diesel trucks, this saves up to 1,000 Euros per 10,000 kilometers on operating costs.
As part of the introduction of the FUSO eCanter truck line, Daimler also announced it is investing in Israeli fast electric charging company StoreDot Ltd.
Part of the investment includes the companies focusing on fast battery charging. StoreDot's FlashBattery technology allows vehicles to recharge in minutes, as quickly as filling a tank with gas. This would be extremely important for commercial vehicles that are constantly on the road. The agreement will see both companies working on a tailor-made, integrated technology for future generations of FUSO eCanter trucks. The companies also believe future joint projects beyond the truck division may be possible.