Hydrogen-Electric Semi-Truck to Enter Production
John Simpson | December 16, 2016
Nikola Motor Company has unveiled a hydrogen-electric Class 8 semi-truck that it says will enter production by 2020.
The Nikola One commercial truck utilizes a fully electric drivetrain powered by high-density lithium batteries. Energy will be supplied by a hydrogen fuel cell that will give the truck a range of 800-1,200 miles while delivering over 1,000 horsepower and 2,000 foot-pounds of torque.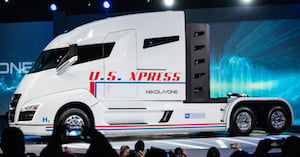 The Nikola One at its launch in early December. Image credit: Nikola Motor Company.According to the company, which is based in Salt Lake City, Utah, the Nikola One offers a number of advantages over comparable diesel-powered trucks, including greater horsepower, torque, range and acceleration and reduced weight. By removing the diesel engine, transmission and emissions equipment and installing batteries, electric motors and a fuel cell below the frame rail, Nikola says the truck also has a lower center of gravity than other semi-trucks—making for better handling and safer driving.
The truck's leasing program will include unlimited hydrogen fuel, warranty and scheduled maintenance during a 72-month term. To date, the company says it has accepted reservations totaling nearly $3 billion in future orders.
Nikola Founder and CEO Trevor Milton says the company is currently in discussions with several states on locating a manufacturing facility to build the truck, which will be determined in the first half of 2017. He further says Nikola will begin construction in January 2018 of a network of hydrogen fueling stations across the U.S. and Canada.
According to the company, it is in the process of developing multiple 100-megawatt solar farms to create hydrogen from electrolysis. Solar energy is to be converted to hydrogen on-site and then transported to service stations by a fleet of Nikola zero-emission hydrogen-electric trucks. The hydrogen will be stored at Nikola stations in liquid form and dispensed into vehicles as compressed or liquid hydrogen.