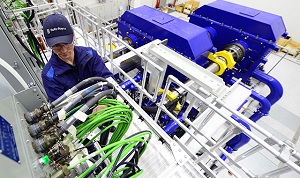 Rolls-Royce Power Gearbox at Dahlewitz, Germany. Source: Rolls-Royce
Four months after testing of the Power Gearbox began at the company's Dahlewitz, Germany, facility, Rolls-Royce has announced a new record for the world's most powerful aerospace gearbox. The Power Gearbox, which is expected to play a central role in the company's next-generation UltraFan® engine by delivering improved efficiency over a range of thrusts, successfully reached 70,000 horsepower.
The system has demonstrated the equivalent power of around 400 family cars at full throttle, and will now be evaluated for lower power functions such as endurance and reliability. The gearbox is designed to operate up to 100,000 horsepower, and at maximum power each pair of teeth on the gearbox will transmit more power than an entire grid of Formula 1 cars.
In this planetary design, each 'planet' is capable of holding the force of a Trent XWB engine at full throttle. It is designed to allow the shafts at the core of the engine to run at very high speeds while allowing the fan at the front of the engine to run at a slower speed. The resulting efficiency gain and weight reduction will allow the UltraFan engine to offer a 25 percent fuel efficiency improvement over the first generation of Rolls-Royce Trent engines.
Rolls-Royce is working in partnership with Liebherr-Aerospace, through its Aerospace Transmission Technologies joint venture, to develop manufacturing capability and capacity for the new Power Gearbox. The UltraFan engine will be available in 2025.