Soybean Oil-based Tires Could Soon Hit the Road
S. Himmelstein | August 31, 2017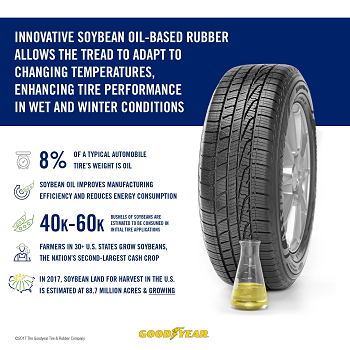 Source: Goodyear
Goodyear Tire & Rubber Company is testing a new formulation to improve tire performance in dry, wet and winter conditions. The tread compound based on soybean oil keeps tires pliable in changing temperatures, a key performance achievement in maintaining and enhancing the vehicle's grip on the road surface.
Rubber made with soybean oil has been shown to mix more easily in the silica-reinforced compounds used in manufacturing certain tires. This compound chemistry also improves manufacturing efficiency and reduces energy consumption.
The commercialization of soybean oil in tires follows other recent Goodyear innovations, including the use of silica derived from rice husk ash in certain consumer tires.
The company cooperated on the project with the United Soybean Board (USB), a group of farmer-directors who oversee the investments of a checkoff program on behalf of all U.S. soybean farmers. The USB provided some funding support for the development of Goodyear's soybean oil application in tires.