Video: Goodyear unveils flying car concept tire at Geneva Motor Show
Peter Brown | March 06, 2019
Automotive tire giant Goodyear loves making a splash at the Geneva International Motor Show.
Last year, the company presented a concept for truly green tires that featured living moss growing within the sidewall for a path toward more environmentally friendly vehicles.
Now, at this year's show, the company has introduced a concept tire for flying cars that function both as tires for driving on the road and as the "propeller" for flying through the air.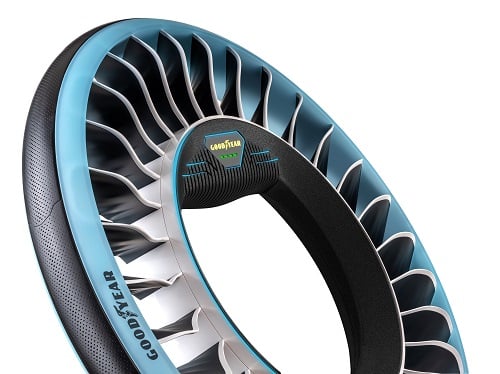 The non-pneumatic tire structure is actually under development. Source: GoodyearThe Aero concept tires feature a multimodal design that would serve as a drive train to transfer and absorb forces to and from the road in a traditional orientation and an aircraft propulsion system to provide lift in the air. Goodyear said this approach would allow flying cars to seamlessly transition from road to sky.
The spokes in the tire would provide support to carry the weight of the vehicle and act as fan blades to lift the vehicle into the air. The airless tire uses a non-pneumatic structure that can dampen shocks when driving and rotate at high speeds for the rotors to take flight, Goodyear said. Magnetic propulsion would be used to provide frictionless propulsion enabling high rotating speeds required to drive the vehicle and propel it forward in the air.
The concept would also include an embedded artificial intelligence processor to take information from the tire's fiber optic sensors and combine it with vehicle-to-vehicle and vehicle-to-infrastructure data to recommend either enabling the flying or driving mode or identify possible potential tire issues before they happen — such as wear-and-tear or the structural integrity of the tire as well as to monitor road conditions.
Obviously, Goodyear realizes this is purely a concept, however, some of the technologies involved are being developed by the company currently including the non-pneumatic structure and intelligent tire capabilities. Goodyear said the other technologies may form the basis for real ideas eventually or even potentially new products in the future.