Goodyear Reveals Spherical Concept Tire for Autonomous Cars
By Engineering360 News Desk | March 24, 2016
Goodyear has unveiled a spherical tire concept that it says would give autonomous cars the ultimate in maneuverability, connectivity and biomimicry. The company's Eagle-360 concept envisions ball-like tires suspended from the car by magnetic fields—the frictionless maglev system resulting in a smooth, quiet ride for passengers.
Spherical-shaped tires would allow cars to change direction without requiring reorientation of the vehicle body itself, according to Goodyear. Such mobility could contribute to the safety of the vehicle's occupants and help drivers in coping with space limitations, such as tight parking spaces, the company says.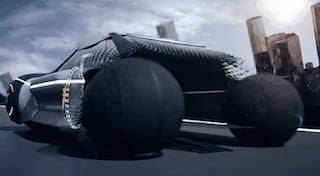 Spherical tires would afford extra mobility that could make vehicle occupants safer. Image credit: Goodyear.Embedded sensors further increase safety by "communicating road and weather conditions to the vehicle control system and other nearby cars," Goodyear says. Wet or icy conditions, for example, would send a signal to the engine to reduce speed. Tread and tire pressure monitoring technology would continually reposition tires to optimize their wear and extend mileage.
Inspired by nature, a 3D-printed tread would be designed to mimic the pattern of brain coral and behave like a natural sponge by stiffening in dry conditions and softening when wet to enhance driving performance and aquaplaning resistance.
"By steadily reducing the driver interaction and intervention in self-driving vehicles, tires will play an even more important role as the primary link to the road," says Joseph Zekoski, Goodyear's senior vice president and chief technical officer.
Although the tire is only a concept, Zekoski says such projects form an essential part of Goodyear's innovation strategy and its vision for smart and safe mobility.