The Right Shims for the Right Applications
August 23, 2017
Sponsored Content
Sponsored content
Mechanical assemblies need precision to function and endure. Sloppy design practices using lower-cost, shoddy components and out-of-date manufacturing and testing can lead to failures, unexpected costs and even safety concerns. The proper specification, selection and use of manufactured parts for initial assembly as well as service all contribute to a mechanical product living up to and beyond its rated longevity.
Shims are one component that an inexperienced or cost-cutting designer may overlook when it comes to specifying the right part for a job, and the use of a wrong shim or wrong spacing might not be immediately evident. It is therefore important to choose the right parts and manufacturers to ensure a correct design and deliver a quality product.
Shim Types and Uses
Material composition as well as mechanical and physical specifications matter when it comes to selecting the correct shim. Shims come in different thicknesses and materials. Materials can include plastic, aluminum, brass, stainless steel and cold rolled, low carbon steel. Specialty applications may require other materials, but these are the most commonly used shim materials and cover most design requirements for most applications.
A good design leverages the shim material appropriately. For example, a plastic shim is usually inappropriate in a high-temperature engine application, where stainless steel or cold rolled materials are more appropriate. Similarly, ferrous metal shims like cold rolled or stainless steel are not typically used in a marine environment. Here, brass can be used without degradation from saline exposure.
Another factor is a shim's intended use. Shims typically take up mechanical space or slack in a static load environment. When used in a static environment, rotational issues such as friction and drag wear are not as important as the compression strength and temperature rating. These represent the two major selection criteria in most cases.
Here is where the right choice of materials is critical. Typically, at temperatures below 200° F, plastic shims are the most cost effective and easiest to use. There are also a wide variety of thicknesses, typically from 0.0005 inches to .060 inches. This allows the use of plastic shims to tighten up wearing assemblies. As a mechanical system ages, field service or scheduled maintenance can use a slightly thicker shim to bring the machine back into tight tolerances, extending the usable life of the machine. Successively thicker shims can be used as the machine ages. This is why a precision range of shims can help.
Lightweight Material
Aluminum shims can typically stand up to 1400° F. Like plastic, aluminum shims can easily be specified and cut to exacting dimensions, shapes and sizes.
The relatively thin gauge of these materials allows the use of steel rule dies for the production of shims to a maximum diameter of 24 inches. Alternatively, plastic shims can be cut to a maximum diameter of 40 inches, and either way, are delivered burr-free and rust-proof and are often the most cost effective.
Also like plastic, precision aluminum shims can be standard 'off the shelf' from 0.001 inches to .030 inches thick. Thicker units resemble gaskets more than shims. Shelf life is not an issue with both plastic and aluminum shims, since both aluminum and plastic are relatively non-oxidizing.
Both plastic and aluminum are also good materials to shim Timken tapered roller bearings. Since the rollers are sandwiched between the cup (outer race) and the cone (inner race), they need to spin freely. If the housing assembly is too tight due to machining tolerances, shims are required to allow proper clearance for the bearings to turn properly.
The two types of shim for this purpose are illustrated below.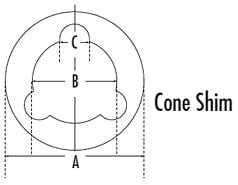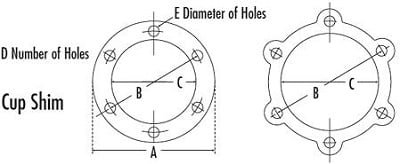 Even though aluminum is a rather soft material, many consider aluminum shims uncompressible, and for the most part this is true. But very heavy static loads can deform plastic and aluminum, so it is wise to consider an application's force requirements.
Stronger and Chemical Resistant
While aluminum and plastic are the lowest cost shims, some applications require more expensive and resilient materials. This is especially true with machines for industries that deal with caustics, corrosives, biologicals and volatile mixtures.
Brass is an example of a specialty material used primarily for salty environments like marine and shore equipment. Available from 0.001 to 0.030 inch thicknesses, brass is also die-cuttable and is made in large and custom sizes and shapes up to 24 inches in diameter rather easily.
The toughest shim material is stainless steel. These shims are ideal for use in the petrochemical industry, pharmaceutical industries and any application that requires high temperature and high endurance shims.
Stainless steel costs more to produce. Alloys like type 301 and 302/304 can be cut and shaped using laser technology.
Similarly cold rolled, low carbon steel in grades of 1008 to 1012 is suitable for demanding applications. Stainless steel is more desirable when magnetic constraints are imposed since stainless steel is non-magnetic.
Bringing It All Together
When selecting a shim, the manufacturer is equally important. In addition to knowledge and expertise, a broad product line that contains simple, easily findable solutions is helpful. Artus Corp. is a shim company you should know about.
Artus has been designing and making shims since 1941 and brings a unique color coding scheme to shims making it easy to identify thickness by color. This assures the use of correct parts during manufacture, as well as field repairs and scheduled maintenance.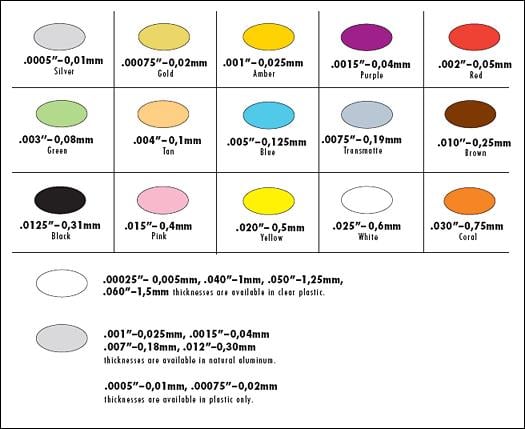 Artus maintains thousandths-of-an-inch guaranteed thickness accuracies and can help design, make and stock any custom die-cutting tools for easy reorder with faster turnaround time.
Artus is the first and last place to go for shims, gaskets and expertise. For more information, visit http://www.artuscorp.com/.