DOE Report: U.S. Wind Sector Soared in 2016
S. Himmelstein | August 09, 2017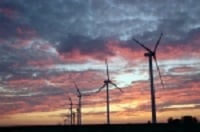 Image credit: U.S. Department of Energy
Growth in U.S. wind power capacity continued in 2016, with additions nationwide totaling 8,203 MW and $13 billion invested in new plants, according to an annual report released by the U.S. Department of Energy and prepared by the Lawrence Berkeley National Laboratory. Wind power constituted 27 percent of all U.S. generation capacity additions in 2016 and contributed 5.6 percent of the nation's electricity supply.
The average generating capacity of newly installed wind turbines in the U.S. in 2016 was 2.15 MW, up 11 percent from the average over the previous five years. The average rotor diameter in 2016 was 108 meters, a 13 percent increase over the previous five-year average, while the average hub height in 2016 was 83 meters, up 1 percent over the previous five-year average.
Texas installed the most capacity in 2016 with 2,611 MW, while fourteen states exceeded 10 percent wind energy penetration.
The average installed cost of wind projects in 2016 was $1,590/kW, down $780/kW from the peak in 2009 and 2010. After topping out at nearly 7 cents/kWh in 2009, the average levelized long-term price from wind power sales agreements has dropped to around 2 cents/kWh—though this nationwide average is dominated by projects that hail from the lowest-priced region, in the central U.S.
Wind sector employment reached a new high of more than 101,000 full-time workers at the end of 2016, and the profitability of turbine suppliers has generally rebounded over the last four years.