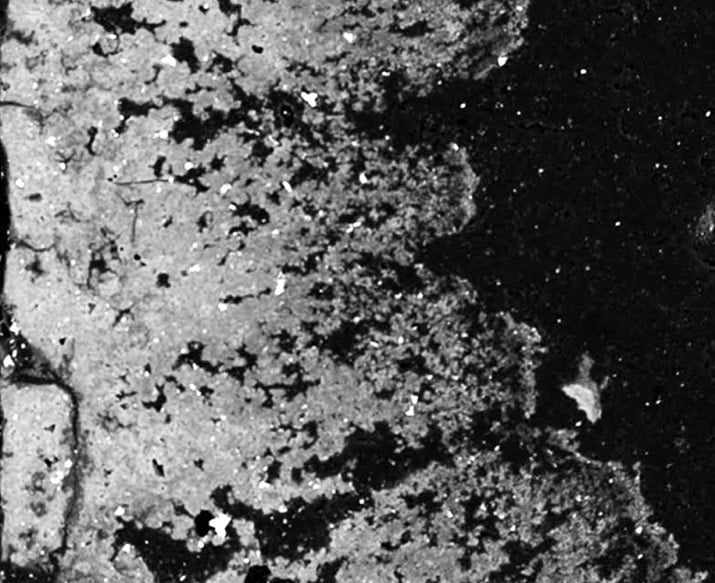 Back-scattered electron images of a rust layer cross-section inside pipe samples from Flint. Image credit: Brian Ellis.The first direct evidence that untreated water leached lead into the damaged drinking-water system in Flint, Michigan, has been revealed by researchers at the University at Michigan. The findings contradict a regulator's earlier claim that corrosion control chemicals would not have prevented the water crisis.
The team used an electron microscope to study texture and composition of the metal scale layer inside lead service line samples from around Flint. Essentially, this is a layer of lead rust—and it's riddled with holes. Analysis indicated that, on average, the service lines released 18 grams of lead during the nearly year and a half that Flint River water not treated for corrosion control flowed through the system.
"If we average that release over the entire period the city received Flint River water, it would suggest that on average, the lead concentration would be at least twice the EPA action level of 15 parts per billion," said Terese Olson, a U-M associate professor of civil and environmental engineering and lead author of the team's published study.
Olson cautions that, even after a lead service line is removed, a potential health risk would remain from lead that could be stored in a home's plumbing. Study co-author Brian Ellis notes that a home's galvanized steel pipes connected to lead service lines could act as "lead sponges"—holding and releasing particles containing the toxic metals at a later time.
Oxidization (rusting) occurs as lead pipes age; atoms on their surface react with oxygen and other chemicals in the system. Water treatment can prevent the breakdown of the rust layer. Typically, water utilities with lead service lines and corrosive water add orthophosphates, compounds to prevent that breakdown. Flint switched from Lake Huron water to the more corrosive Flint River to save money, but did not adjust its water treatment process.
By analyzing a lead service line from a vacant home not exposed to the corrosive Flint water, the authors hope to verify their prediction of the amount of lead released. The challenge, though, is finding a home with a lead service line that can be dug up—and a water supply that's been turned off since 2014.